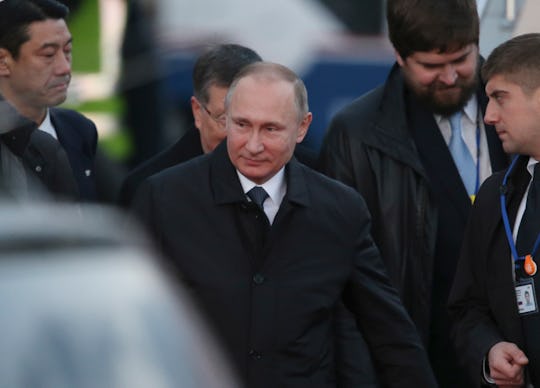 KOJI SASAHARA/AFP/Getty Images
Has Vladimir Putin Commented On The Election Or Trump's Cabinet Picks? He's Cued In
Throughout the 2016 presidential election, and following President-elect Donald Trump's win, Russia's President Vladimir Putin has been routinely a part of election-related news and conversations. And with a recently revealed CIA assessment that Russia intervened with the election, and with Trump's nomination of Rex Tillerson as secretary of state, Putin and Russia continue to remain in the center of the United States' presidential election news. So, has Putin commented on the election or Trump's cabinet?
As The New York Times reported, C.I.A officials have recently revealed that they believe that Russia intervened with the presidential election by hacking emails of notable Democrats. The assessment suggested that the hacking was done with the intention of aiding Trump to victory, the Times reported. Trump has dismissed this assessment repeatedly, and on Twitter he wrote: "If Russia, or some other entity, was hacking, why did the White House wait so long to act? Why did they only complain after Hillary lost?"
But Putin, and Russia's supposed involvement with the presidential election, isn't the only reason why the Russian president's name has made a series of headlines lately. Trump's nomination of Tillerson, ExxonMobil CEO, has also sparked some concern and curiosity.
Tillerson has had business relations with Russia through Exxon, and according to a report by Vox, the CEO has previously headed an energy partnership with a Russian company. Tillerson was also previously awarded an "Order of Friendship" by Putin — an award that added to criticism from notable Democrats and Republicans alike, who have expressed concern about Tillerson's ties with Russia.
So where does Putin stand in all of this? The Russian president hasn't appeared to have publicly released statements regarding Trump's appointments, but according to the Los Angeles Times, Putin reportedly said in a national address that he doesn't want "confrontation."
"We don't want confrontation with anyone — we don't need it," Putin reportedly said, according to quotes by official media outlets and reported by the Los Angeles Times. "We are not seeking, and have never sought, enemies. We need friends."
According to a report by CNN, after Trump's election victory last month, Putin reportedly released the following statement to Russian state television:
(Trump) spoke about resuming and restoring relations with Russia. We understand the way to that will be difficult, taking into account the current state of degradation of relations between the US and Russia... As I have repeatedly said, that is not our fault that Russia-US relations are in that state. Russia is ready and wants to restore the fully fledged relations with the US. I repeat we understand this will be difficult, but we are ready to play our part in it.
Trump's connections to Russia only appear to be growing, and that's something Americans should pay close attention to.