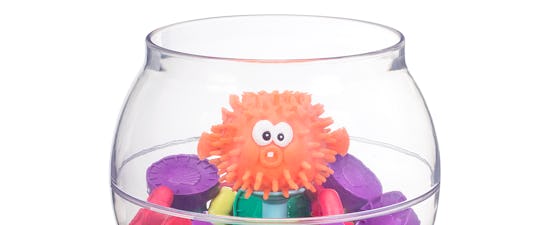 Courtesy of Hasbro
This New Blowfish Blowup Game Is Guaranteed To Make Your Kids Laugh & Sweat
There's only so many times you can play the same old games with your kids before it becomes absolutely mind-numbing. If you've begun to have nightmares about Candyland or physically recoil when the Uno cards come out, it might be time to re-stock your game shelf. Luckily, a brand new Blowfish Blowup Game from Hasbro, recommended for kids four and up, is hitting stores soon and could totally change up your family game night.
The game is pretty simple to play, but has major potential for lots of fun and laughs. 24 little pieces of "treasure" are stuffed inside a bowl with a blowfish. Each player takes a turning fishing out a piece of treasure with their hand, but the catch is that the blow fish could blow up at any time. If it blows up during your turn, you're out of the game. The last player to fish out a treasure without getting blown up wins. The game's rules aren't hard to follow, and set up is super quick and easy, so even pre-schoolers should be able to play.
I remember loving games like this one as a kid. Classics like Operation required agility, while games like Perfection required speed and focus. Blowfish Blowup combines elements of both, so I can totally see it being a hit for kids and parents (and it sure beats getting whacked in the face with pie, in my opinion).
With the holiday shopping season coming up, games that the whole family can play together are a great investment. Family bonding is the most obvious perk, but according to Psych Central, the benefits don't stop there. They also teach kids about following directions, being patient, teamwork, and give parents a chance to offer constructive feedback to help kids achieve their goals. It may seem silly, but teaching your kid the best way to fish a piece of plastic treasure out of a bowl could have a really positive impact on them.
If your kids are getting a little older, you can switch up the rules a bit to make Blowfish Blowup a little more complicated. Instead of the last player standing being the winner, you can go with a points system and see who has the highest total after all the treasures have been retrieved.
Blowfish Blowup may just hit the sweet spot where both younger kids and older kids can play and have fun. Since my brother is four years older than me, we could never quite find a game that suited both of our ages and abilities when we were kids — which led me to smash a lot of Monopoly boards in frustration.
As PBS noted, you really can't put a price on making special family memories during a family game night. But if you're interested in checking out Blowfish Blowup, it's available at Target for $14.99. Other retailers will get to carry the game in January.
Edit Note: This post was updated with a link to purchase Blowfish Blowup, now available at Target.