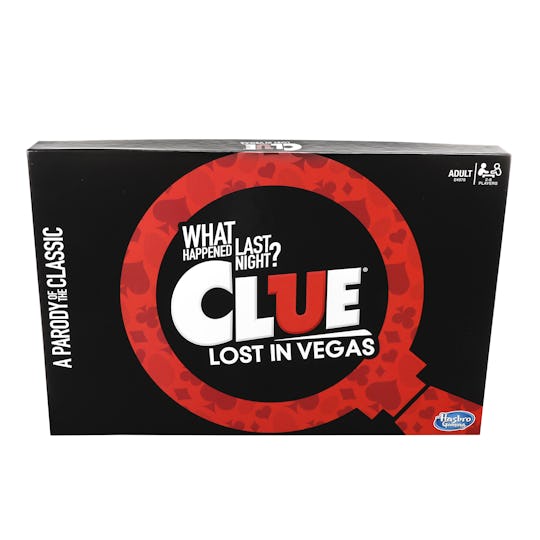 Hasbro's New Parody-Version Classic Board Games Are 100 Times Better Than The Originals
We're heading into the holiday season, which probably means a lot more time with your extended family and in-laws. At least in my case, that's usually a recipe for a whole lot of awkward small talk, uncomfortable political debates, and plenty of painful lulls in conversation. Thankfully, one toy company is about to save us from all of that. Hasbro is releasing parody versions of their board games and they sound ridiculously fun, especially if paired with some holiday hot toddies.
Hasbro's new millennial-friendly board game collection features a total of five games that riff on the old classics, including 'Game of Life: Quarter Life Crisis,' 'Botched Operation,' 'Sorry! Not Sorry!', 'Mystery Date: Catfished,' and 'Clue: What Happened Last Night? Lost in Vegas.' These parody games will be exclusively available at Target, (both in store and online) for $20 each, starting October 1, according to an official Hasbro statement.
When I first heard about Hasbro's reimagined board game line, I was curious whether it was merely a playful name change, or if the premise of the games actually changed too. Good news, the tweaks are everything you hoped they would be, and more. Take 'Clue: What Happened Last Night? Lost in Vegas' for example, which is basically the plot of The Hangover mixed with the best parts of the original Clue.
The new Clue's set-up goes like this: "Seven friends reunite for a weekend in Vegas, but someone had a little too much fun. Only 6 of you wake up in a disheveled hotel room on Sunday morning! Buddy is missing - and it's up to the players to figure out who was the last person to see him, where they left him, and what they were doing. Eliminate the suspects and discover the who, where, and what to solve the mystery." The characters' names are a little more modern now (i.e. Jack Violet, Ava Carmine, Nathan Jade) compared to good old Mrs. Peacock and Professor Plum, but they still have their own lovable quirks.
Clue: Lost in Vegas Adult Board Game, $18, Target
Another one of my favorite premises from the new collection is 'Game of Life: Quarter Life Crisis," which is now all about racing to pay of $500,000 of crippling debt, while dealing with some pretty legit real life situations, like dropping your phone in the toilet, or calling in sick to binge-watch TV.
By far the best new title in the collection is 'Sorry Not Sorry!' and in this reimagined game, you can now sabotage other players, steal their pawns, and use the "Sorry Not Sorry" card to have them reveal their weirdest "have you ever" secrets.
Sorry! Not Sorry! Adult Board Game, $18, Target
There's also 'Mystery Date: Catfished Edition,' which is a tongue-in-cheek game that takes dating into the digital age. Be forewarned: your mystery suitor really might not be who they say they are! And last but not least in the collection, there's 'Botched Operation.' This game still involves players having to use the tweezers to remove silly ailments from Cavity Sam but this time, they have to do it while also performing a crazy stunt shown on the "Challenge card." The game's tagline may be, "Don't get buzzed," but you could certainly turn this into a drinking game to make the "organ" removal that much more challenging.
One thing's for sure, these games will definitely breathe new life into a tired game night, and possibly save us this holiday season too.