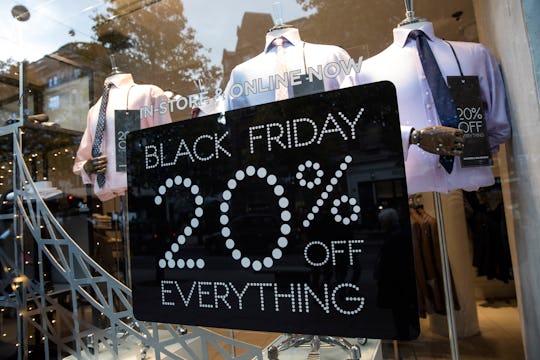 Jack Taylor/Getty Images News/Getty Images
Hatchimal Black Friday Deals Might Give Parents One Last Chance To Nab The Popular Toy
The hottest toy this holiday season has been next to impossible to get: Hatchimals, the interactive stuffed animal toy that "hatches" from an egg, have been flying off the shelves since they debuted a few weeks ago. As we enter the thick of the holiday season, many parents are wondering if they still might be able to get one in time for the holidays. Hatchimal Black Friday deals, starting this week, might provide one last chance.
The day after Thanksgiving, colloquially referred to as Black Friday, is arguably the most intense shopping day of the year. People will go to great lengths to get the best deals shopping for holiday gifts — especially if there are in-demand items that have been difficult to get. This year, that hot-demand item is Hatchimals.
The toy, from Spin Master, is already out of stock in most places and the company's website even put up a pop-up notice to warn shoppers:
The consumer response to Hatchimals has been extraordinary, exceeding all expectations. Some of our first shipments have already sold out. While additional product will hit retail shelves in November, we anticipate this inventory will also sell out quickly. We have increased production and a whole new batch of Hatchimals will be ready to hatch in early 2017. This is a special season and we don't want anyone to be disappointed, nor do we support inflated prices from non-authorized resellers. We are working on creative solutions to help kids and their parents withstand the wait. In the interim, some retailers are developing pre-sale and/or rain-check programs for redemption in January. We will continue to update with program details as they become available.
Spin Master has allowed some retailers like Toys "R"" Us and Walmart, to sell Hatchimals that are exclusive to their store; since there are several different "breeds" of Hatchimal, availability has been based partially on where consumers shop.
Since Black Friday is a known moneymaking day for these big box stores, it's reasonable to assume that they've been saving some of the year's hottest products to pull in customers — Hatchimals included.
Walmart, one of the most popular Black Friday destinations, seems to have had a strategy in place for Hatchimals from the get go: it will be selling the toy on Black Friday — for a reduced price of $48.88 — but it's likely to sell out quickly.
Toys "R" Us told Business Insider that it's still getting shipments of the toy and will keep putting them on the shelves as they come in. How long they stay there, though, is a different story altogether.
Hatchimals are still available on Amazon, but for double the in-store cost: some are even listed for more than $200. And for shoppers who are determined to get one, no matter the cost, they're available on eBay too, with auction prices anywhere from $25,000 to $100,000 — although the latter is, supposedly, to be donated to charity.
Hatchimals, $250, Amazon
Not everyone's excited about Hatchimals returning for Black Friday: retail workers have already starting lodging their complaints about the toy on Twitter:
Throw in the overall chaos of Black Friday, and it's a safe bet that many retail workers will probably be thrilled if they never have to see another Hatchimal again.