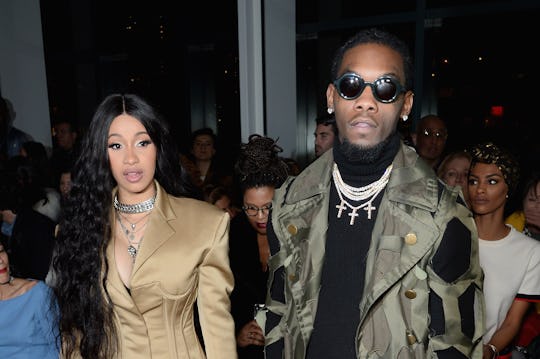 Andrew Toth/Getty Images Entertainment/Getty Images
Cardi B & Offset Have Worked On These Hits Together, & Hopefully There Will Be More To Come
Cardi B is living the life these days. Not only is her career literally off the charts with one hit single after another, she's also engaged to Migos' Offset and they're expecting a baby any day now. Oh, and her dog just had puppies, as anyone who follows her on social media will know. But with one song after another breaking records and topping charts, it's hard to keep up with everything she's done professionally. Like, have Cardi B and Offset made music together?
So, Cardi B and Offset have been dating since around February 2016, according to Billboard, and the couple apparently met in New York City by chance. It was that year that they did one song together, "Lick," according to Billboard. It's possible that they never met in the studio (musicians can collaborate by just recording their verses and parts separately), but that was sort of the beginning of their romance, according to the news outlet.
As you likely know, Offset is a member of the group Migos, and they're the featured artist on her song "Drip," so they've also done that together. She also has a verse on Migos' song "MotorSport." Now that they're getting married, it's very likely that there will be more collabs on the way for the expectant parents. Then again, a lot of musicians date each other and never record an album or a song together, so it could really go either way. Since featured artists and collaborations are sort of a defining characteristic of hip hop music, though, it's certainly possible that these two will find each other in the studio again one more time.
Here's "Lick"
Here's "Drip"
Although their relationship has been on-again, off-again, or at least that's what some headlines say about them, Cardi B and Offset are the real deal now that they're engaged. When she announced her engagement, Cardi B wrote in a now deleted Instagram post, as reported by Billboard:
Jesus Christ I'm so emotional, @offsetyrn I loveee you so much. Thank you for seeing the potential in me since you met me. For giving me advice molding me and loving me. Your such a amazing man to me your family, friends, kids and you are extremely talented. I can't wait to spend FOREVAAAA with you. Lets make a lot shmoney and love together.
In an interview with Rolling Stone, Cardi B said of her fiancé, with "sparkles in her eyes," that Offset was a good man. "He is always taking care of everybody," she told Rolling Stone. "Like, you know when you that one person that have the money, he really take care of everybody? He got to take care of his babies, so he overworks himself more than anybody I ever seen." The feeling is more than mutual. Offset said in the same Rolling Stone interview:
She is real solid, came from where I came from, did what I did. She's herself, man. I seen her develop from the trenches all the way up, and I like how she did it. I respect her grind as a woman. She came to the game with some gangsta shit. I like that. I f*ck with her. That's my baby.
Though this is his first child with Cardi B, Offset is a father to three children from prior relationship — an 8-year-old and two 2-year-olds, though the toddlers aren't twins — but he is dedicated to making a life with Cardi. The mom-to-be told Caity Weaver in GQ interview that there was a lot of back and forth in their relationship because they didn't trust each other at first. The rapper said:
We never really trusted each other because I always feel like he could get any girl he wants — what makes me think he's gonna want me? I think he felt the same way. N*ggas want to be with me, and b*tches wanna be with him.It was just too much playing games. He would look for me; sometimes he would take a jet to me. And it was just like, "Let's stop playing. We really love each other. I'm scared to lose you, and you scared to lose me."
And he helps her figure out the music business and pushes her to work harder. "I be so sleepy because I do so much things. So he always pressure me to go to the studio," she told GQ in the same interview.
With that kind of mutual respect and ambition to keep working, you can definitely bet on Cardi B and Offset (or Migos as a whole) making more tunes together.