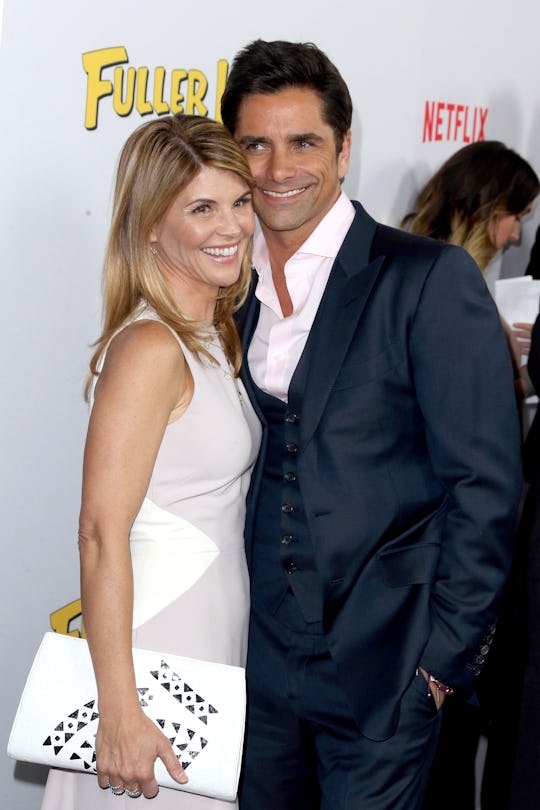 Frederick M. Brown/Getty Images Entertainment/Getty Images
Have Lori Loughlin And John Stamos Hooked Up? They Dated At Least Once
Aunt Becky and Uncle Jesse were Full House's power couple. He was a motorcycle-riding, Elvis-obsessed musician. She was a journalist, co-host of Wake Up San Francisco with Danny Tanner. Together, they had the kind of mutually-supportive love that everyone dreams of, and they were parents to adorable twins. Now that Fuller House is on Netflix, fans are wondering whether the actors ever dated in real life. Have Lori Loughlin and John Stamos hooked up? It doesn't sound like it, but it may just be due to bad timing.
It turns out that Loughlin and Stamos' story started long before they shared a fictional house in San Francisco. John Stamos told HuffPost Live that he and Loughlin went on a Disneyland date in their teens, according to Us Weekly. Sadly, he said that they were never single at the same time once they started working on Full House. Loughlin was married to Michael Burns from 1989 to 1996, Us Weekly reported. Stamos romanced Rebecca Romijn around the time Loughlin and Burns' marriage ended; Stamos and Romijn were married from 1998 to 2005. By that time, Loughlin was already with current husband Mossimo Giannulli.
Loughlin said she still takes heat from fans who wish she'd had an IRL romance with Stamos, according to People:
I don't post many pictures of my own husband on Instagram because every time I do, I get a bunch of comments saying, 'You should have married John Stamos.'
Stamos said he had "undeniable chemistry" with Full House castmates in a 2012 interview with People. In a conversation with HuffPost Live, Stamos did talk about missing out on a romance with Loughlin:
No disrespect to her family and her husband now, but I would say that she could be the one that got away.
Unfortunately, it doesn't look as though Stamos and Loughlin had a secret relationship. The good news: they totally honor their on-screen marriage. Lori Loughlin recently posted to Instagram in celebration of Becky and Jesse's 25th anniversary: "Happy Anniversary to Jesse & Becky celebrating 25 years of marriage! Way to go kids!!"
It also seems as though Loughlin and Stamos are genuinely good friends. Stamos posted a video goofing around with Loughlin outside of the Full House house: "'If you were a chick, who's the one guy you would sleep with..?'@loriloughlin #stepbrothers"
Loughlin shared a silly snapshot of her own: "I was runnin' through the 6 with my Stamos @johnstamos"
She also wished Stamos a happy birthday: "Happy Birthday to one of the best. Love you tons."
Seriously, could the two of them be any cuter?
33 weeks ago, Loughlin posted a #tbt photo captioned, "They're back!"
Now that Fuller House is out on Netflix, fans don't have to live in the past. Loughlin and Stamos may not be married, but it's seriously delightful to know that Becky and Jesse are going strong.