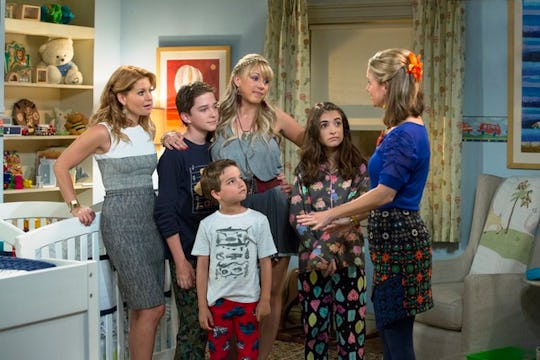 Netflix
Have the 'Fuller House' Kids Seen 'Full House'? One Of Them Is A Huge Fan
We're just a few days from the premiere of Fuller House (streaming on Netflix Friday), the reboot of the classic ABC sitcom Full House. While practically everyone born between 1980 and 1990 is intimately familiar with the source material, what about the actors on the new show? In addition to the original cast (save for the Olsen twins), the show also stars five new actors. Have the Fuller House kids seen Full House? Well, of course the babies haven't, but what about the three older kids? It turns out that they have, according to People. In fact, one of them is even a lifelong fan of the sappy, catchphrase-heavy series.
The original Full House centered on Danny Tanner (Bob Saget), a widower raising his three young daughters with the help of his best friend, Joey (Dave Coulier), and brother-in-law, Jesse (John Stamos). Fuller House brings back almost the entire original cast, and a grown-up D.J. Tanner-Fuller (Candace Cameron Bure) has found herself stepping into her father's shoes — and house — as a recent widow with three children of her own: sons Jackson (Michael Campion), Max (Elias Harger), and Tommy (Fox and Dashiell Messitt). Little sister Stephanie (Jodie Sweetin) and best friend Kimmy (Andrea Barber) move in to help out, along with Kimmy's daughter, Ramona (Soni Bringas).
Campion, 13, told People that he's been watching Full House since he was 3 years old and has seen every episode of the original show at least once or twice. I'd like to know how that went down, honestly, because when I tried showing my son a Full House rerun, he was so utterly uninterested. I'd always just chalked it up to one of those "you had to be there" type of things that the '90s were known for, like JNCOs or Chumbawamba.
Bringas, however, was raised in Spain, and was therefore deprived of growing up with the corniest family TV has ever known. The 13-year-old actor prepared for her role by watching YouTube videos of Kimmy Gibbler's scenes. Here's hoping that she only watched them in order to get to know her TV mom, and doesn't plan on actually emulating the obnoxious character herself. Though I don't feel as strongly as Stephanie, one Kimmy is still definitely more than enough for me.
The youngest of the big kids, Harger, age 8, isn't as big of a Full House fan as his TV brother, but was well aware of the show's history. He told The Denver Post that he'd seen several episodes of the show before being cast, and is now the proud owner of an autographed boxed set. Of course, he was born in 2007, so he probably doesn't even know what those shiny silver circles inside the box are, but that's OK; I'm sure he'll do just fine.