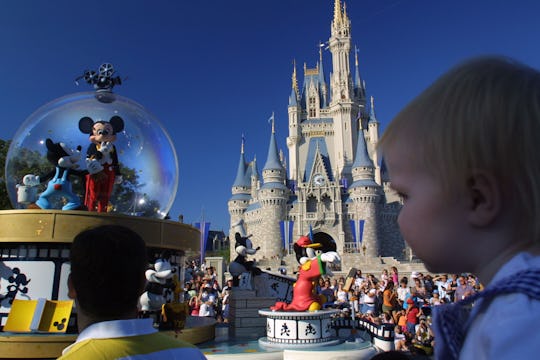 Joe Raedle/Getty Images News/Getty Images
Have There Been Alligator Attacks At Disney Before? They Are A Rarity
Dubbed the "Happiest Place on Earth," Orlando, Florida's Walt Disney World is getting ready to celebrate its 45th anniversary this fall. But, on Tuesday night, a 2-year-old was attacked by an alligator at one of the Walt Disney World Resort properties. As the search for the missing boy continues, guests and visitors have wondered: Have there been alligator attacks at Disney before? In a state like Florida, alligator attacks — though rare — are a very real threat to residents, and Walt Disney World is no different.
But why would an entertainment mogul like Walt Disney build Disney World in the middle of Florida swamps? Turns out, swampland was cheap, especially when Disney concealed his name during land purchase sales, referring to Disney World as simply the "Florida Project." But more importantly, Walt Disney World sits at an intersection of some of the most-traveled highways in the state. But buying property anywhere in Florida means you've probably got alligators on your property, too — especially if your land has any bodies of water.
While Tuesday's alligator attack at Walt Disney has been a shock to many, it's not the first time Disney World guests have crossed paths with gators.
The last alligator attack at Disney World was nearly 30 years ago. In 1986, 8-year-old Paul Richard Santamaria was camping with his family at Disney World's Fort Wilderness, a resort and campground. While playing tetherball with his siblings, the third-grader was bitten by an alligator when he strayed from the group to watch ducks by a small pond near their campsite. Santamaria's sister pulled him from the gator's jaw as his brother began to beat the animal with his bare hands. The alligator released her grip on Santamaria, and he was rushed to a hospital to treat multiple lacerations on his left leg. The gator, a 7-foot female, was shot and killed by wildlife and game officials.
Since then, there have no been alligator attacks on Disney guests — thank goodness. But that doesn't mean that Disney World's waterways have always been gator-free. In 2003, a guest spotted an alligator swimming near Splash Mountain, in the Rivers of America section. The park visitors managed to capture on video the massive beast swimming just feet from the log flume:
According to the website Jim Hill Media, Disney World authorities shut down Rivers of America temporarily and worked with handlers from the nearby Gatorland park to finally capture the alligator.
Gators are a fact of life in Florida. Alligator attacks and bites do happen across Florida, but most often these attacks don't result in death. That said, in 2015, the state witnessed its first fatal alligator attack for the first time since 2007. Even at the "Happiest Place on Earth," Walt Disney World guests need to know that they very well could spot an alligator. Unfortunately for guests at Disney World, those gators don't have ticking clocks in their bellies to warn guests (or Captain Hook) of their imminent approach.