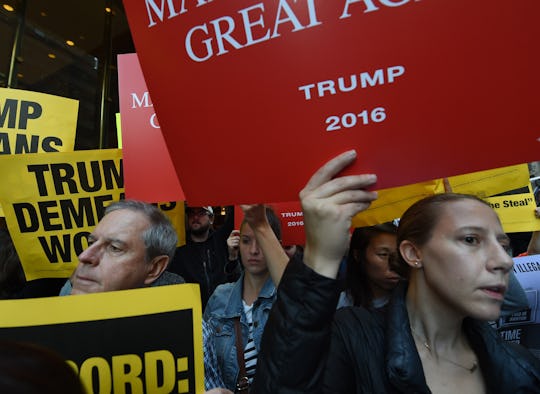 TIMOTHY A. CLARY/AFP/Getty Images
Have Trump's Poll Numbers Been Affected By His Recent Scandals? The Race Is Still Tight
In the wake of the unearthed recorded conversation from 2005 between Donald Trump and Billy Bush — which revealed the GOP nominee using extremely lewd language to talk about women — a growing list of horrified prominent Republican figures have withdrawn their support for the party's candidate and a number of women have come forward accusing Trump of unwanted sexual advances. Although the Republican candidate has bragged about this type of alleged lascivious conduct towards women in the past, these recent revelations and scandals have surely affected Trump's poll numbers. Or have they? Despite all of the political controversy, recent figures indicate that the race for the White House is still tight.
According to new polls taken from an Oct. 10-15 CNN/ ORC poll in three critical battleground states — Nevada, North Carolina, and Ohio — Democratic candidate Hillary Clinton is only a few points ahead of her Republican rival, with North Carolina and Nevada in Clinton's favor and Ohio in Trump's.
The polls found that 46 percent of Nevada voters say they will vote for Clinton, while 44 percent say they will back Trump. In North Carolina, voters are more evenly divided between the two major party candidates with 48 percent in favor of Clinton and 47 percent backing Trump. The tables are turned, however, in Ohio with 48 percent of voters in the Midwestern state saying they support Trump and 44 percent who say they will vote for Clinton.
Meanwhile, Libertarian candidate Gary Johnson and Green Party candidate Jill Stein are much further behind Trump and Clinton, with Johnson at 7 percent in Nevada, 4 percent in North Carolina, and 4 percent in Ohio. Stein trailed with just 2 points in Ohio, and no available numbers in either Nevada or North Carolina.
According to NBC News, recent polling figures gathered by an NBC/WSJ poll found that Clinton holds the overall lead over the three other presidential candidates by 11 points in the four-way race and is 10 points ahead of Trump in a two-way race. In the most recent CNN Poll of Polls released on Monday, Clinton's overall lead is around 8 points among likely voters, with 47 percent supporting the Democratic candidate and 39 percent supporting Trump.
Although these numbers differ and the presidential race remains tight, NBC News note : "To put Clinton's current 11-point lead into perspective, Barack Obama beat John McCain by seven points nationally in 2008. And Obama's margin of victory over Mitt Romney in 2012 was four points."
All of these polls were taken after the release of the 2005 Access Hollywood recording, which led to days of outrage within the Republican party as well as from voters nationwide; In its wake, several women accusing Trump also came forward with their own accounts of alleged sexual assault. Trump has vehemently denied all the allegations against him.
Some have predicted that this year's election will bring the largest voter turnout in modern political history. Whether or not the majority of polls remain in Clinton's favor, continue to tighten, or swing Trump's way, even with his numerous scandals in tow, is still yet to be seen.