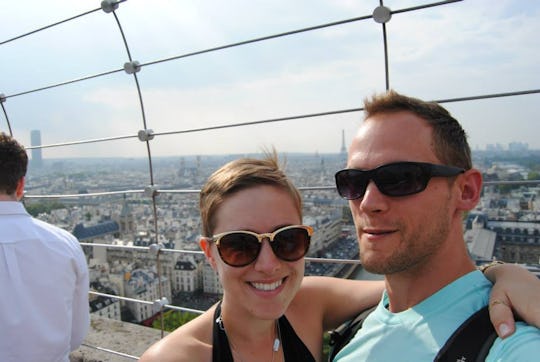 Courtesy of Ceilidhe Wynn
Having Sex To Get Pregnant Was The Best Sex I've Ever Had
I've had many different kinds of sex: solo sex, drunk sex, make-up sex, break-up sex, sex for fun, sex for boredom, maintenance sex, angry sex, romantic sex, and married sex. But having sex to get pregnant is a totally different experience.
Sex for conception isn't a topic that gets talked about a lot. Recently, however, actor and former Dancing With the Stars contestant Alexa PenaVega brought the subject to the forefront when she said that sex became more "passionate" when she and husband, Carlos PenaVega, started trying to conceive.
"I found there's such a difference between having sex when you're trying for a kid and when you aren't," PenaVega, who is now in her third trimester, told Fit Pregnancy and Baby. "For us, sex became so much more intimate, beautiful, and passionate when we were trying. Suddenly the realization hits you: 'Oh my God, we could be starting another life!'"
While baby-making sex is certainly all of those things, what sets it apart from other types of sex is that it requires intense schedulingl. That's why having sex to get pregnant can either be the best sex you've ever had, or the most stressful.
My partner and I decided to start trying to get pregnant during a two-week vacation to Europe. We drank wine in Paris, strolled the parks of London, and climbed mountains in Edinburgh. And every single night (with the exception of two), we had sex. I packed lingerie, but I didn't wear it every night because we were just going to take it off anyway.
Those two weeks of sex were intense and incredibly fun. We constantly talked about what sexual positions were the best for us to conceive, and we laughed when I lifted my legs and bum into the air afterward. "Do you think that was it? Do you think we made a baby this time?," we'd ask each other excitedly in the darkness of the hotel room. In fact, I'm not sure there was a time that I felt more connected to my partner than when we were trying to conceive, except maybe for the first time I saw him holding our daughter.
Although sex during those two weeks was awesome, it was also fairly predictable, because it followed a specific schedule. There was pressure on both of us to perform and to make each sexual encounter meaningful, because it was so important to us. Even those moments when we weren't having sex were stressful. During those two nights that we didn't have sex, I couldn't help but think, "But what if? What if this night was the night we were supposed to conceive?"
During those two nights that we didn't have sex, I couldn't help but think, "But what if? What if this night was the night we were supposed to conceive?"
It was also exhausting to have sex almost every night, regardless of how we felt that day. Because we spent every day walking around beautiful old cities and standing in line at markets, my legs were exhausted and my back constantly hurt. None of those feelings screamed, "it's sexy time!" but we kept having sex anyway, because we wanted so badly to have a baby.
Two weeks after my partner and I returned home from our trip, I missed my period. Two days into my missed period, I took a home pregnancy test and discovered I was pregnant. All of that vacation sex had paid off. We'd gotten incredibly lucky.
Most of the time when you have sex, there's no shared purpose or higher goal in mind, other than, you know, having an orgasm. That's why having sex with the intention of having a baby is such a surreal experience, because you're doing it with the most significant goal of all: to change your life. At times, that pressure can be overwhelming. But it's still some the best sex I've ever had.