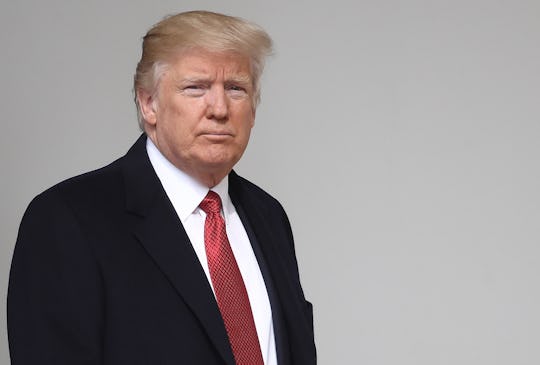 Win McNamee/Getty Images News/Getty Images
Hawaii Judge Blocks Trump's New Travel Ban
Last week, President Donald Trump introduced a revised version of the previous travel ban he signed into order back in January. The new federal travel ban was meant to appease those concerned over the original's constitutionality, yet still work to prohibit people from certain countries from entering the United States. But on Wednesday, a Hawaii judge blocked the new travel ban — and it's a major development for the immigrant and refugee families affected by the order.
Just hours before the ban was supposed to go into effect at midnight on Thursday, U.S. District Court Judge Derrick Watson temporarily blocked the ban nationwide before it could see the light of day. According to CNN, this means that citizens in the countries affected by the ban will still be able to travel freely to the United States. The revised travel ban, which took the Trump administration took weeks to rewrite, according to CNN, was blocked due to the judge concluding that the new order "still failed to pass legal muster." The state of Hawaii argued that this new ban "discriminates based on nationality" and would prevent state residents from seeing family members in countries affected by the ban, according to ABC News. Those plaintiffs won when Watson ordered for a temporary block of the new ban less than 24 hours before it was supposed to be enacted.
But this second travel ban was rewritten so it would not be blocked in the first place. According to CNN, Trump's revised executive order "removed Iraq from a list of banned countries, exempted those with green cards and visas, and removed a provision that arguably prioritizes certain religious minorities." Trump's revised travel ban would still have blocked citizens traveling from the following six countries: Iran, Libya, Syria, Somalia, Sudan, and Yemen. In spite of these changes made to the original ban, Judge Watson determined that they still were not enough. Judges in Maryland and Washington were also set to hear last-minute challenges to the executive order on Wednesday, according to NPR.
Judge Watson wrote in his ruling, according to USA Today, that Trump's order was "issued with a purpose to disfavor a particular religion in spite of its stated, religiously neutral purpose." This temporary restraining order against Trump's ban will "prevent the ban from taking effect until the lawsuit has been resolved," according to USA Today. This could not be better news for the estimated 90,000 people that were affected by Trump's first travel ban and their families.
This judge's ruling proves that despite Trump's intentions for enacting the ban, it is still not constitutionally acceptable and does more harm than good.