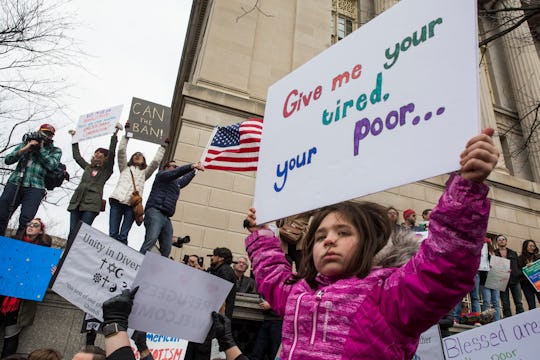 Zach Gibson/Getty Images News/Getty Images
Hawaii Judge Blocks Travel Ban With Preliminary Injunction
On Wednesday evening, a judge in Hawaii issued a preliminary injunction against President Trump's divisive executive order, which barred refugees and travelers from six predominantly Muslim countries from entering the United States. The decision to implement the injunction was handed down by the same Hawaii judge whose original travel ban block was criticized by the White House earlier in March. The injunction effectively transforms Judge Derrick Watson's earlier restraining order into an indefinite roadblock, which will likely be met with plenty of pushback from the Trump administration.
Update: In a statement to Romper, a Justice Department spokesperson noted, "The Department of Justice strongly disagrees with the federal district court's ruling. The President's Executive Order falls squarely within his lawful authority in seeking to protect our Nation's security, and the Department will continue to defend this Executive Order in the courts."
"The State sufficiently identified monetary and intangible injuries to the University of Hawaii," Watson wrote in his order, citing evidence presented by state attorneys earlier in the month. "... [They] also presented evidence of injury to its tourism industry." The judge continued,
Such harms can be sufficiently linked to the Executive Order ... The State would not suffer the harms to its proprietary interests in the absence of [its] implementation. These preliminary findings apply to each of the challenged sections of the Executive Order. ... The underlying purpose of a preliminary injunction is to preserve the status quo and prevent irreparable harm.
Watson wrote that, "as no new evidence contradicting the purpose identified by the Court has been submitted by the parties since the issuance of the March 15, 2017 [temporary travel ban restraining order]," there was "no reason" to undermine his previous decision to stay the ban until the state's lawsuit was settled.
In his arguments, the state's Attorney General Douglas Chin argued before the court that Trump's revised travel ban — the second iteration of the order the president initially signed earlier in the year, which barred travelers and refugees from seven Muslim-majority countries, including Iran (not on the revised list) — was akin to a "neon sign flashing 'Muslim ban, Muslim ban,'" according to The Chicago Tribune.
"After the repeated stops and starts of the last two months, [issuing a preliminary injunction] would ensure that the constitutional rights of the plaintiffs, and of Muslim citizens throughout the United States, could be finally and fully vindicated," the AG argued.
The injunction extends nationwide, with "enforcement of these provisions in all places, including the United States, at all United States borders and ports of entry, and in the issuance of visas is prohibited, pending further orders from this Court," as detailed in Watson's ruling.
As of late Wednesday evening, neither Trump nor the White House had issued a public statement in regards to the injunction. Romper's requests for comment to the White House and Department of Justice were not immediately returned.