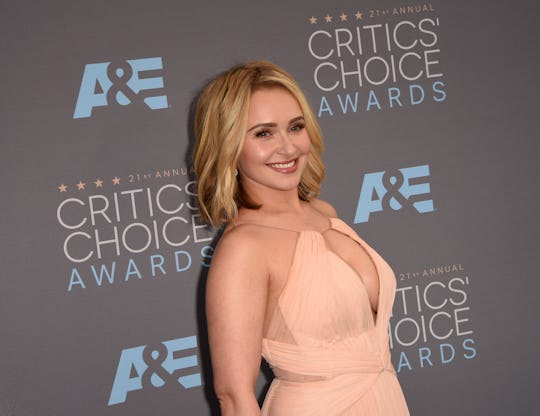 MARK RALSTON/AFP/Getty Images
Hayden Panettiere Finished Treatment For Postpartum Depression, & She Has A Message For New Moms
The emotions and experiences following pregnancy can be isolating — and they can affect pretty much anyone. In fact, actress and singer Hayden Panettiere just finished treatment for postpartum depression herself, and rather than hiding her experience from the public, she's speaking out. In an interview with Yahoo! Style, the 26-year-old explained that her story should serve as a lifeline for new moms who may be afraid to get the support they need.
After giving birth to her first child in December 2014 (a daughter named Kaya Evdokia, who she shares with fiancé Wladimir Klitschko) Panettiere started treatment for postpartum depression four months ago, according to Us Weekly. Today, she's settling back into her life in Nashville. Talking to Yahoo! Style, she said it's critical for postpartum depression to be recognized as a real medical condition:
If you think for one second that a mother wants to feel that way toward her child, you're outta your mind. It is one of the most debilitating, scary, guilty feelings that you can ever feel. That a mother would not be able to connect with their child, would not be able to get a grip, or would not know what's going on, for anybody to say that it's false or created by us, you must have your head examined.
It's normal for many women to experience symptoms of the baby blues, according to Mayo Clinic. New moms may experience short-term anxiety, sadness, and even appetite problems and trouble sleeping. Postpartum depression is a more serious condition, and mothers may not manifest symptoms until half a year after giving birth. Emotional symptoms may include depressed mood, mood swings, crying, anger, fear, and guilt.
Postpartum depression also manifests physically: Moms may experience appetite loss or overeating, insomnia or oversleeping, fatigue, and even panic attacks. The condition can make it difficult for mothers to bond with their children and connect with their loved ones. A new mother may consider suicide or even harming their baby. For many mothers, admitting to feelings of depression can be terrifying. Panettiere told Yahoo! Style that it took time to overcome the fear of backlash she may have encountered for seeking treatment:
I was always so terrified that people weren't going to accept me. I finally just went, I'm tired of living afraid. I'm tired of living in fear of what people are going to think, so, you know, I'm just going to put it all out there on the table and I'm not going to worry about the judgment.
Destigmatizing postpartum depression treatment starts with women sharing their stories. Panettiere told Yahoo! Style that being open about her condition allowed her great freedom:
The more open I was, the more acceptance I got from people. I got so much support and so much love. I was floored. I feel much more exposed, yes, but in a great way.
If you're experiencing the symptoms of postpartum depression, don't be afraid to talk to your doctor. A family physician can refer you to a specialist who can help, according to Mayo Clinic. Panettiere's story shows that there are plenty of paths to healing, and no woman should be stigmatized for seeking them.