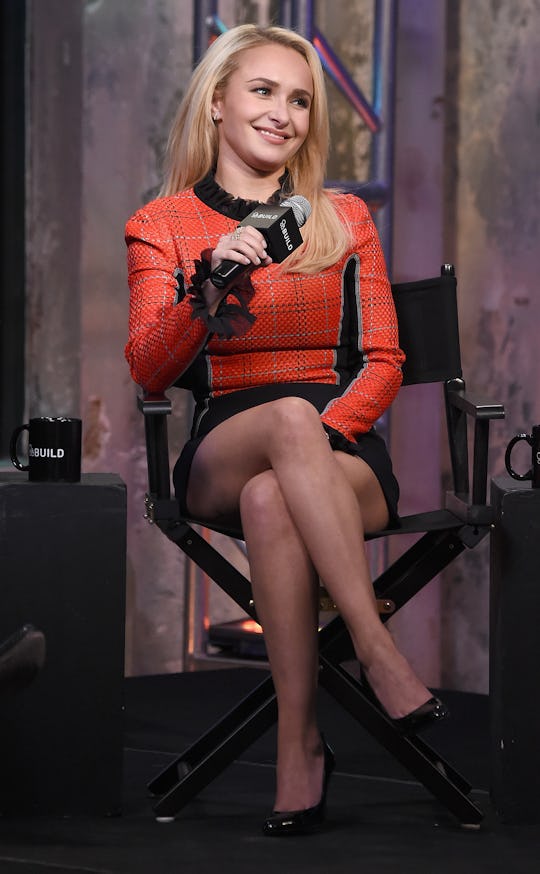 Jamie McCarthy/Getty Images Entertainment/Getty Images
Hayden Panettiere Says PPD Made Her A Better Mom
Any woman who has struggled with her mental health after giving birth knows that there is nothing easy about it, but in an interview with Good Morning America Thursday, Hayden Panettiere said suffering from postpartum depression has made her appreciate motherhood in a new way. The Nashville actress sought treatment for postpartum depression twice, according to Us Weekly — once in Oct. 2015 just before her daughter, Kaya, turned 1, and again in May 2016, after revealing publicly that she was still struggling. Panettiere told GMA host Lara Spencer that, while her depression was hard to endure, it ultimately taught her about her own resilience — as well as the resilience of women and mothers in general:
It takes you a while. You feel off. You don't feel like yourself. But, you know, women are so resilient, and that's the incredible thing about them. I think I'm all the stronger for it. I think I'm a better mom because of it. Because you never take that connection for granted.
Although it couldn't have been easy for Panettiere to live out her struggle in the public eye, she didn't shy away from being honest and open about her decision to re-enter treatment a second time. In a tweet ahead of her return to rehab, Panettiere wrote,
The postpartum depression I have been experiencing has impacted every aspect of my life. Rather than stay stuck due to unhealthy coping mechanisms I have chosen to take time to reflect holistically on my health and life. Wish me luck!
It definitely sounds like that was the right decision. According to Just Jared, Panettiere shared sweet stories about her daughter during an appearance on Live! With Kelly Thursday, along with a video of her little girl going skiing for the first time while they were vacationing in Austria with Panettiere's fiancé Wladimir Klitschko. And while the family of three currently lives in Tennessee, Panettiere admitted that Kaya actually speaks Russian better than she speaks English — and that when she does speak English, she does so with a Russian accent.
It is of course wonderful to hear that Panettiere was able to get help and heal during her battle with PPD, but it's also pretty remarkable and inspiring that she's done it so openly and without shame. Even though PPD is a common disorder (affecting an estimated 600,000 American women per year at least, according to Postpartum Progress), the expectation that all women are supposed to be magically overjoyed by new motherhood makes it difficult for women who are experiencing PPD to talk about it, or even to realize it's happening in the first place.
One thing that helped Panettiere? The fact that her Nashville character, Juliette, was also struggling with the disorder. The actress told Good Morning America ahead of the premiere of Nashville's fifth season, that playing a mom suffering from PPD made it easier for her to recognize it in her own life, according to The Daily Mail. And Panettiere said it also helped give her the strength to realize that she doesn't need to feel afraid to get help:
It absolutely helped me. I think it helped me identify what was going on. And to let women know that it's OK to ask for help and it's OK to have a moment of weakness. It doesn't make you a bad person, doesn't make you a bad mother. It makes you a very strong, resilient woman. You've just got to let it make you stronger.
That's an incredibly important message, and one that will no doubt help countless mothers and moms-to-be who might in turn recognize their own struggle, either in Juliette's, or in Panettiere's directly. By being open about her experience, Panettiere has shown that it's absolutely OK to need help, and that it's nothing that anyone should feel embarrassed of or guilty about (not to mention that she's also made it clear that recovery could be an ongoing process, and that that's OK too). And now, Panettiere has shown that you can absolutely suffer from PPD and go on to be a happy, healthy, loving mom — not to mention one who is stronger, wiser and more confident in her own resilience than ever before.
PPD isn't something that any woman hopes to go through, and it's certainly not something that any woman deserves. But it's clear that it does happen to many mothers, and also that there are options out there for getting help if they are able to ask for it and feel supported. She may never have expected it, but Hayden Panettiere has, through her own honesty, helped fight the stigma of postpartum mental health. And that's something that she — and her daughter too one day — should feel very proud of.