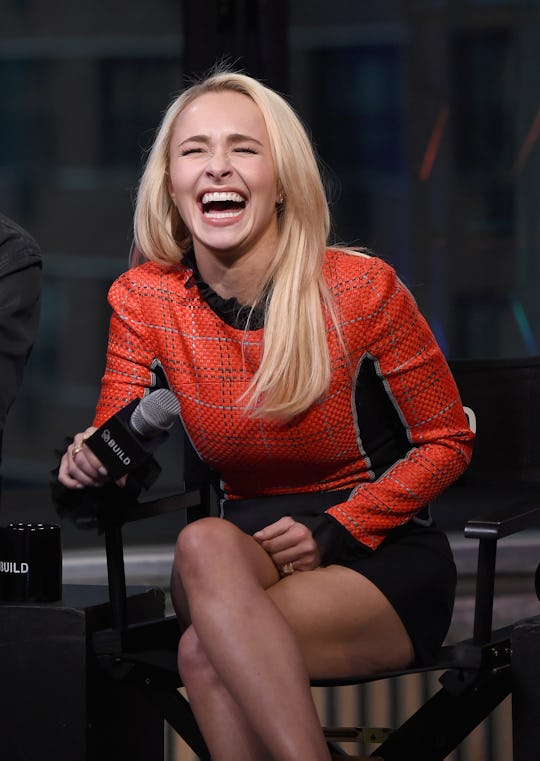 Jamie McCarthy/Getty Images Entertainment/Getty Images
Hayden Panettiere's Photo Of Daughter Is Real AF
Stars, they're just like us! Sometimes they eat junk food, sometimes they shop for bargains, and sometimes, their children pee themselves in public. To that end, Nashville star Hayden Panettiere's photo of daughter Kaya's "accident" on an airplane is all too relatable. Turns out that being famous doesn't save you from dealing with potty-training problems. And the most adorable part of the photo? Panettiere's daughter, Kaya Evdokia, was intent on cleaning up after herself.
Panettiere, age 27, posted the picture of her and her 2-year-old daughter crouched in a tight airplane bathroom after Kaya made a bit of a mess on a Sunday flight. "Aaaand then ur daughter pees on the floor of the airplane bathroom," Panettiere wrote on Twitter, adding, "But look at that baby girl helping momma clean." And yes, Kaya was on it, wiping away her mess like a pro. It must have been an interesting flight for Panettiere, as well as for all the other people on the plane who, at first, were probably excited by the presence of a celebrity, and then, probably tickled at the hilarious, decidedly non-glamorous turn of events.
Kaya is Panettiere's only child with her partner, heavyweight boxing champion Wladimir Klitschko, 40.
Panettiere has made a career of playing larger-than-life characters, from a super-powered cheerleader on Heroes to a country music superstar on Nashville. However, in her real life, she has consistently come across as candid and real, particularly in regards to motherhood. The airplane peeing photo is a fun example, but Panettiere has also been open about a more difficult subject — her battle with postpartum depression.
Panettiere has struggled with postpartum depression since 2015, even checking herself into a treatment center for the mood disorder at one point. During an interview on Good Morning America, she discussed the way the disorder affected her, saying,
You feel off, you don't feel like yourself. But, you know, women are so resilient and that's the incredible thing about them. And I think I'm all the stronger for it. I think I'm a better mom because of it, because you never take that connection for granted.
Kudos to Panettiere for being so open and honest, when it comes to both serious subjects and funny ones. And kudos to little Kaya for her dogged work ethic and for her realization, even at an early age, that in life you have to clean up your own messes.