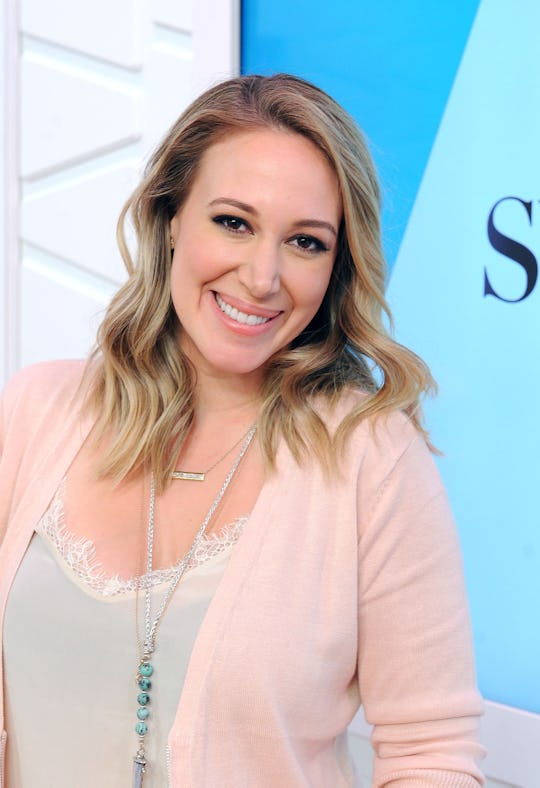 Craig Barritt/Getty Images Entertainment/Getty Images
Haylie Duff Gives Birth To Baby No. 2 — A Girl! — & She's SO Adorable — PHOTO
We can all agree the world often feels a bit chaotic at times, but it's so refreshing that sometimes all it takes is one perfect photo to make that noise fade into the background. Today that photo comes from actress Haylie Duff, announcing the arrival of her second child, another baby girl, with her fiancé Matt Rosenberg.
Duff shared the news with the sweetest Instagram post on Thursday, June 7, showing big sister Ryan holding their new bundle of joy wrapped up in a baby blanket. Duff and Rosenberg also shared the name of their newest addition: Lulu Gray Rosenberg. How beautiful is that? According to Duff's Instagram caption, her little girl arrived on June 5. "Ryan is the happiest big sister & we are finally a family of 4! 💜Meet our littlest one... Lulu Gray Rosenberg!" Duff captioned the aww-worthy photo of her daughters.
Ryan's princess dress and sweet crown showcase how excited she is to be a big sister, but nothing is more telling than the ear-to-ear grin she's flashing the camera. She's going rock her big sister role. For her part, little Lulu looks happy to be in her sister's arms, she's almost wearing a little smile herself!
The 3-year-old was also part of Duff's pregnancy announcement back in January, when the actress posted a photo of Ryan (who clearly loves her purple dresses) pointing at her belly with the cutest expression on her face. "Round 2! Ryan thinks our new baby is growing in HER belly! #FamilyOf4," she captioned the post.
Nothing is sweeter than seeing a child excited for a new sibling, and Duff has clearly been so happy to share that joy today. On her Instagram Story on Thursday, she added more snaps of cute moments caught, with Ryan reading the book Welcome, Baby to her new sibling, and gently kissing her forehead.
Duff also shared some moments that look like they may have been taken during her hospital stay. In the snap on her Instagram Story, Lulu is wearing a pink baby cap in one. In another one, she's resting in the background in a bassinet. She also shared one of the gorgeous arrangements of pink flowers she received.
In March Duff told People that she was thrilled with the news that her second-born would be a girl and attributed it to her tight relationship with her sister Hilary. "Truthfully, we really wanted another girl. My sister and I have such a special relationship. Ryan could have that bond of sisters. We would have been happy if it was a boy, but we're pretty pumped that it's a girl," Duff told People.
So now that baby number two has arrived, some might be wondering when Duff and Rosenberg will walk down the aisle. The pair have been engaged since 2012, according to People, but decided to push back the wedding when they discovered they were pregnant with Ryan. "We feel married already and it hasn't become something that both of us are gung-ho about," Duff told People during her first pregnancy. "Maybe after the craziness of a new baby dies down we'll be ready to talk about it again."
But the busyness that comes with a new baby could push wedding planning to the back burner again. "We talk about it and think, 'Maybe now we're ready to do it' and then life happens and toddler happens," Duff told People when she discovered she was pregnant with Lulu.
Today's photos make one thing clear. Whenever — if ever — the couple decides to tie the knot, they'll do it as a family who are covered with love. Congratulations, and wishes for restful nights, for this sweet family and their latest bundle of joy!