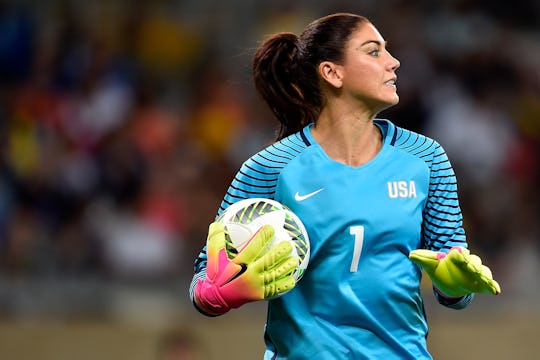 Pedro Vilela/Getty Images Sport/Getty Images
Heckling Hope Solo With Zika Chants Goes One Step Too Far
The juggernaut United States Women's National Team (USWNT) goalie, Hope Solo, was the subject of more relentless jeers from Brazilian soccer fans on Saturday. Solo was able to overcome the consistent taunts and help lead the USWNT to its second victory at the Olympics in a match against France held at the Estadio Mineirao in Belo Horizonte. Solo managed to keep her cool in Team USA's hardest match in the group stage of the competition, even as she faced with loud cries of "Zika!" every time she touched the ball. While heckling is a huge part of soccer culture around the world, yelling "Zika!" at Hope Solo takes it one step too far.
Solo faced the same heckles in the USWNT's first game against New Zealand. The United States beat New Zealand 2-0, with their competition only putting one shot on frame. Solo's superior goalkeeping skills went largely unused in the women's first Olympic match. This kept the chants of "Zika!" kept to a minimum throughout the 90 minutes of the game. France kept America on their toes throughout the second match, however, forcing Solo into action. The more Solo touched the ball, though, the more the chants could be heard.
Solo is prolific face in the world of international sports. She is the United State's all-time leader on a variety of fronts, including starts, wins, shut outs, and goalkeeper caps. She is the first goalkeeper in the world to ever reach 100 shutouts, as well as reaching her 200th international cap for the USWNT in Rio in the match against France. She is the first international goalkeeper in history to reach either of these milestones. It would be putting it lightly to say that Hope Solo is the best goal keeper in the world right now.
Apart from being the best goal keeper in the world, Solo also happens to be a woman. She has spoken out about wanting to start a family with her husband, retired football player Jerramy Stevens. Solo is the exact demographic that is at highest risk for contracting Zika. She was put in an extremely difficult position when choosing whether or not to attend the Olympics in Rio.
Solo was open about her reservations about Zika from the start. Media spotlight is a side effect of the kind of success Solo has reached in her career, and as a result of being honest about her concerns, she became a leading voice in the conversation surrounding Zika and the Rio Olympics.
Solo spoke to Sports Illustrated about her reservations and ultimate decision to compete in the games, saying, "I wish people would understand that I did my due diligence before coming to Brazil. It was a personal decision I had to make alongside my husband and it's not something I just spoke about without getting educated on." Zika is a very real threat to women, especially when they are planning to start a family. The citizens of Brazil, who have suffered from this disease disproportionately more than Americans, should have empathy for a woman working to prevent herself from contracting the virus herself.
In fact, Solo should be applauded for choosing to participate. Many athletes decided to opt out of coming to Rio to compete in the Olympic games, including golfer Rory Mcilroy and tennis champion Simona Halep, for obvious, understandable reasons. Solo chose to represent her country, despite being a woman with serious interest in starting a family.
Hopefully the unfair "Zika!" heckles will die down as the competition continues. If it doesn't, though, it's doubtful Solo will let it stop her from total goalkeeping domination.