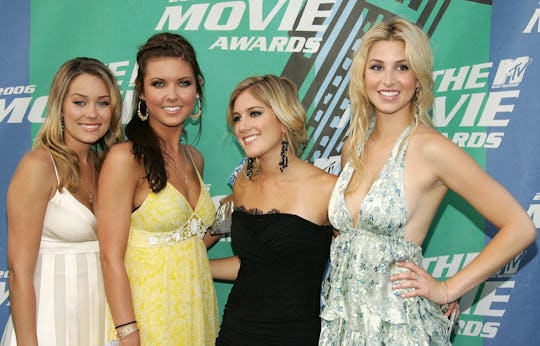 Frazer Harrison/Getty Images Entertainment/Getty Images
Heidi Montag On All Those 'The Hills' Pregnancies
Eleven years ago, MTV (arguably) debuted one of the greatest reality TV shows of our time — The Hills. The reality show documented the lives of Lauren Conrad, Heidi Montag, Audrina Patridge, and Whitney Port, navigating their careers and love lives while living in Los Angeles, California. A lot has changed since 2006, both in the world and in the lives of the stars, who have grown up and started their own families. Just 11 years later, three of the core stars of The Hills are pregnant — and now Montag claims she knew her co-stars would get pregnant at the same time that she did — sort of.
Who didn't love The Hills? The breakups between friends and relationships the cast members experienced spoke to so many young viewers at home, who were navigating their own lives and figuring things out just like Conrad and Montag. All these years later, viewers have grown up with the cast, now following along with them on social media rather than MTV, as they begin to tackle motherhood together.
Currently, Montag, Conrad, and Port are all pregnant (Patridge gave birth to a daughter this past August), which is a crazy coincidence — or was meant to happen all along, depending on who you ask. Montag, who is expecting a son with husband (and The Hills co-star) Spencer Pratt, had a "feeling" that her and her fellow co-stars would all be pregnant at the same time. Montag told E! News:
I said to Spencer, I almost guarantee you one of them is going to be pregnant at the same time and I did think it was going to be Lauren.
It's true. Conrad announced her pregnancy with husband William Tell in the beginning of the year and Montag followed with an announcement of her own in April. Being pregnant at the same time might not unite the former roommates and best friends, according to E! News. But even though Montag and Conrad's babies might not be having play dates of their own in the future, Montag had nothing but kind words to say for her former friend and her growing family.
While the timing of the cast's pregnancies are certainly strange, it only makes sense that The Hills cast members would all be starting families at the same time. Now in their early 30's, the women are no longer fighting over relationships or spending all night dancing at the club. Instead, they're looking forward to starting new chapters in their lives.
Port, who announced she was expecting in February, believes the pregnancies are all a crazy coincidence, telling KTLA5 Morning News:
It's crazy. You would think we all like got together one night and discussed this master plan. It's just totally a coincidence and it's been really awesome.
If only the cameras were still around to capture it all.