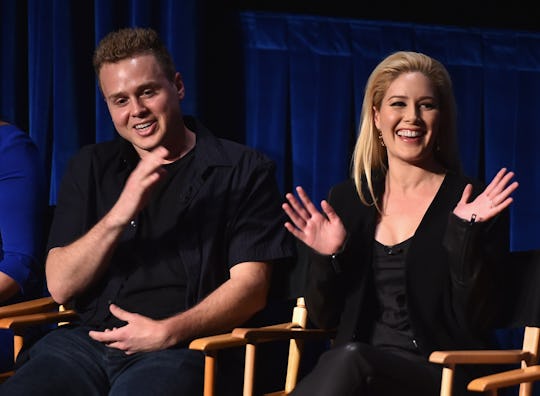 Alberto E. Rodriguez/Getty Images Entertainment/Getty Images
Heidi Montag's Mother's Day Post Is Seriously Adorable
There must be something in the water. Or more accurately, something in The Hills. And why is that, you ask? Well, not only is Lauren Conrad pregnant, but so are her Hills co-stars Whitney Port and Heidi Montag. All three women are expecting their first little bundles of joy within the year, and all have blessed the world with adorable photos of their respective pregnancies so far. And today, even though more and more users are likely overwhelming your social media pages with Mother's Day posts, Montag's bump photo and unique Mother's Day message shouldn't be missed.
Next to a gorgeous photo showcasing her new bump, Montag wrote, "#happymothersday! So excited to celebrate my first Mother's Day! #blessed Thank you to all you beautiful amazing moms for your endless love and dedication! Missing my mommy!"
It was only last week that Montag revealed the sex of her and husband Spencer Pratt's first child together, in an exclusive interview with Us Weekly; The reality couple excitedly announced to the outlet that they were having a boy. And only four weeks have passed since Montag first officially announced her pregnancy to the world, appearing on the cover of Us Weekly, alongside a smitten Pratt, lovingly holding on to her, bump and all.
From the couple's interview with the magazine, it's clear that both Montag, 30, and Pratt, 33, are beyond thrilled to be welcoming a little one into the world. In fact, Montag even revealed that she had been hoping for her first child to be a boy all along — and if that isn't kismet, then nothing is.
"I hope to have a little girl one day, but for my first child, I really wanted a son," she said. "I'm hoping to God that we don't just have one, but if we do, I wanted a son. I thought it'd be a more natural bond for Spencer since he and his dad are so close." And while the couple may have been all about the gender reveal, that doesn't mean they aren't open to their little one being whoever, and whatever, he wants to be.
"I'm really excited for his personality and his little smile," Montag explained. "I'm excited to take him to Disneyland and to see if he's into dinosaurs, Mickey Mouse or ballerinas — it can be anything. Maybe he'll be the best dancer!"
Right on, Speidi! Clearly Montag and Pratt are gearing up to be the best parents possible — and that's more than enough.