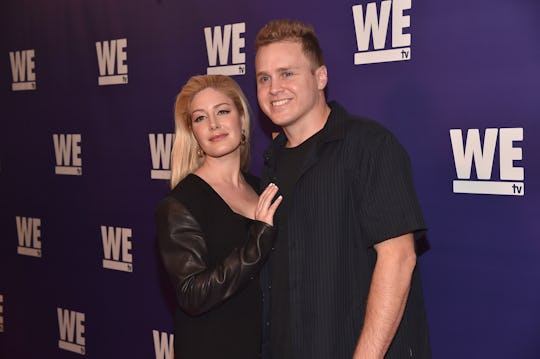 Alberto E. Rodriguez/Getty Images Entertainment/Getty Images
Spencer Pratt & Heidi Montag Are Expecting A Baby
They are certainly no stranger to controversy, but after 10 years of outrageous headlines and reality television drama, they've got some very sweet and exciting news to share. Spencer Pratt and Heidi Montag are expecting a baby, and they couldn't possibly be more excited about it. The couple shared their happy news in an exclusive interview with Us Weekly, and discussed how much their life has changed from being the over-the-top reality stars everybody loves to hate, to becoming 30-something parents-to-be looking forward to settling down. One thing that certainly hasn't changed though? Their devotion to one another. After 10 years together, and almost eight years of marriage, Pratt and Montag seem more ready than ever to start a new chapter of their lives together — this time as parents.
In the interview, the couple shared the story of how Montag told Pratt the happy news. Pratt explained that he had just rolled out of bed when he saw his wife "just standing there" as though she was going to tell him she'd made breakfast. Instead? She told him she was pregnant. Montag said she was "overwhelmed" saying it out loud, and that she "started crying, and he embraced me."
Even though Montag admitted in the interview that she'd actually been longing for a baby for a few years now, their work obligations made it difficult to start seriously considering expanding their family. While they haven't appeared on TV much in the United States as of late, the couple reprised their roles as reality show villains for Celebrity Big Brother in the U.K. in 2013 (they were the runners-up, according to The Telegraph). Then there were the years in which Montag appeared to struggle personally from what she considered to be a plastic surgery addiction, according to The Daily Mail, when she underwent ten surgeries in one day back in 2009.
These days though, life seems to be drastically different for the couple — in a Feb. 2016 feature for Broadly, they admitted that the bulk of their reality show wealth was gone, and that they were living rent-free in Spencer's dad's beachside vacation home near Santa Barbara. According to Us Weekly, Pratt now sells crystals online as a source of income, which certainly sounds like a major departure from their former life. But it also appears like the much more down-to-earth couple are at the perfect stage to move forward with their plans for a family.
Luckily, Montag said that getting pregnant wasn't a problem — she told Us Weekly "It happened the first month!" — but said that she has struggled with "really bad morning sickness since the beginning." But even that hasn't been all that bad: Montag gushed that she's "never been so happy to feel so sick," and added, "every time I feel awful, I remember why and I'm just euphoric. It's so fulfilling, and I'm mostly just grateful."
Pratt and Montag likely don't stay in touch with their former castmates from The Hills, but if they wanted to schedule some playdates after their baby is born in October, they'd certainly have options. In January, Montag's former BFF Lauren Conrad announced she was expecting a baby with husband William Tell according to E! News, and Whitney Port and husband Tim Rosenman also recently announced they have a baby on the way, according to People.