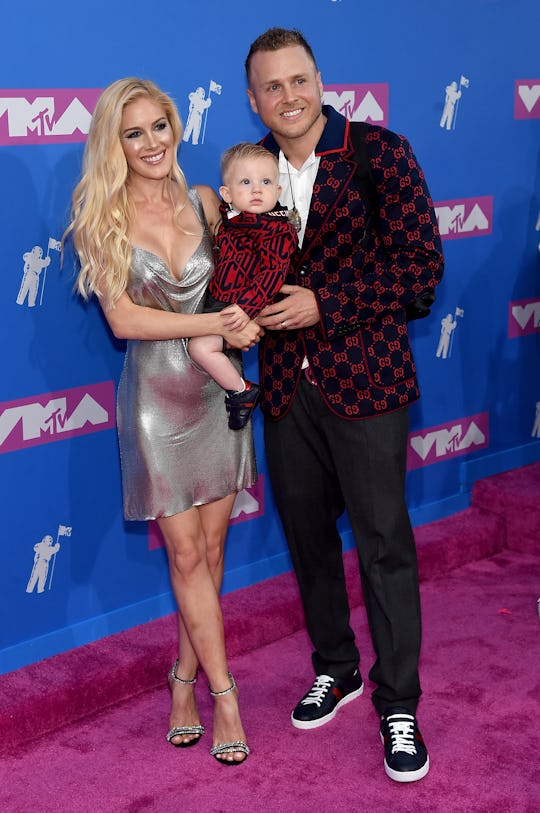 Jamie McCarthy/Getty Images Entertainment/Getty Images
Speidi Brought Their Baby To The VMAs, Because Of Course They Did
There were a lot of big names walking the red carpet of Monday's 2018 MTV Video Music Awards, but some of the smaller attendees had to be carried. For example, Heidi Montag and Spencer Pratt brought their son to the VMAs and he enjoyed the festivities from his parents' arms. The littlest member of the Pratt Pack seemed perfectly content in the spotlight — an attitude that will serve him well in the near future.
Montag, Pratt, and their 10-month-old son, Gunner Stone, strolled outside of the Radio City Music Hall together, stopping to take photos and share the exciting experience on social media. Pratt and Gunner wore matching red and black Gucci blazers, while Montag opted for a glamorous thigh-length silver dress with black and silver heels, according to People. The three of them were picture perfect, as always.
Proud daddy Pratt took a family selfie and shot a short video for his Instagram Story, in which he yelled "Miracle baby, we're out here!" before showing the hoard of fans around him. He also panned Gunner's outfit and said "Gucci, Gucci, all day, all day." Montag laughed while her husband put on his show. Gunner, meanwhile, looked completely unfazed by the hoopla.
Pratt is right to call Gunner a miracle baby, as the couple did not come by parenthood easily. Montag opened up about their struggle to start a family with Entertainment Tonight, explaining that Pratt wasn't too keen on the idea for some time. She has already started to push for another baby, she said:
It took me a lot of years to convince Spencer to have baby No. 1, so I'm just trying to put it in there. [We won't be having another kid] anytime soon, but you've got to work on these things early is what I've learned.
The two also spoke with E! News about the possibility of another baby. When asked if they were considering it, Pratt said, "Oh yeah, every day. Next year, right?" Montag chimed in to say that she's love either a girl or a boy, but she loves having a son. "It's so much fun. So if we have another boy, we'll probably have three [kids]." Pratt added that a psychic once told the pair that they would have twins, "so watch out Mary-Kate and Ashley," he said.
While the possibility of another Pratt baby seems somewhat up in the air, the two of them have plenty to celebrate. At the VMAs on Monday, MTV announced that the beloved series that created the couple that fans love to hate was returning, according to Entertainment Weekly. The revival, The Hills: New Beginnings, will feature a number of the original cast members — including Montag and Pratt — as well as children and friends.
Shortly before the award show, the original gang reunited on the red carpet to promote the revival, People reported. Lauren Conrad, Kristin Cavallari, and Whitney Port were notably absent and will not be returning to the show. Fans have been hoping to return to The Hills for years since the show ended its six-season-long run on MTV from May 2006 to July 2010, and it appears that their wish is finally being granted.
For those eager for news of another Speidi baby, perhaps Montag will be able to convince Pratt to take the plunge yet again on the new season of the show. And even if Gunner remains their only child, I have no doubt that the two of them will give viewers plenty to talk about. Love 'em or hate 'em, Spencer and Heidi were never boring.