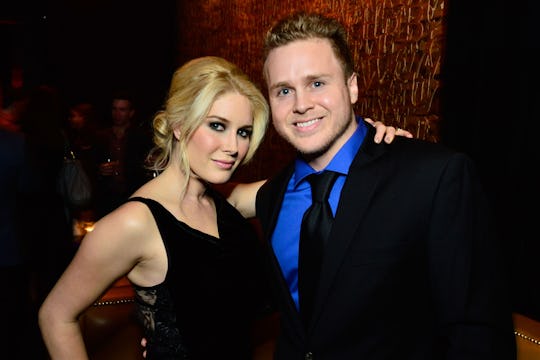 Jerod Harris/Getty Images Entertainment/Getty Images
Heidi Montag & Spencer Pratt Welcome Their First Child!
One Hills alum family has grown by one! On Sunday evening, it was reported that Heidi Montag and Spencer Pratt welcomed their first child together on Oct. 1, according to Us Weekly. And the couple chose an incredible cute name for their bundle of joy, a baby boy, reportedly naming him Gunner Stone.
Little Gunner was born on Sunday afternoon at 3:06 p.m., weighing in at 6 pounds, 12 ounces, the couple's rep told Us Weekly. The healthy little boy was also born with blond hair and blue eyes, looking just like mom and dad.
"We are so blessed to have a beautiful healthy baby boy," Montag told Us Weekly following Gunner's birth. "It was the hardest and most rewarding experience."
"Officially the most lit day of my life," Pratt added, describing the birth of his son to Us Weekly
Montag and Pratt had reportedly decided on Gunner's name long before he arrived on Sunday. According to E! News, the pair had chosen a "very original" name for their son, though Pratt admitted that it wasn't "as flashy" as he wanted if he could have had his way. "We came to a common ground," he told E! News. "I definitely wanted Speidi. At least a middle name!" Stone seems like a good compromise.
Both Montag and Pratt have been very open about this chapter of their lives, first announcing the exciting news back in April of this year. According to Us Weekly, Pratt was apparently half asleep when Montag told him he'd be a father.
"The look on her face, I can't even describe it. She was literally glowing. I thought she was about to say she made muffins or banana bread," the new dad told Us Weekly at the time. "Heidi said, 'I'm pregnant'... I was like, 'Whoa, that's way more exciting than banana bread!'"
"I started crying, and he embraced me," Montag told Us Weekly of the moment she broke the news, adding that her due date was in fact in October. And as it turns out, little Gunner is a punctual fellow.
But, his parents were actually expecting him to arrive on time, or a bit early, depending on when his due date was. According to People, Montag was already 1 centimeter dilated when she and Pratt visited the doctor last month on Sept. 14.
"Well this doctor visit was a little different to what I thought," the 31-year-old new mom said on her Instagram Stories at the time, according to People. "I'm about 1 centimeter dilated and we're just hoping he doesn't come too early!"
Montag added, at the time, that little Gunner had "flipped." As People reported in September, she added, "He's officially flipped ... Yeah! Optimal birthing position!"
During the same Instagram Story, Montag also revealed that they decided to buy "a little preemie outfit in case he comes early," according to People, adding, "He is coming early. I just hope not too early."
While the couple has dished a lot about this journey thus far, they have yet to share more details about Gunner — aside from his name, measurements, and birth date. However, Pratt reportedly did make sure his little boy arrived in his custom style. As People reported on Sunday, the 34-year-old reality star and crystal collector thanked Crystalarium, a crystal store in West Hollywood, for "dropping off $27,000 in crystals at the birth."
Considering the couple's openness about Montag's pregnancy and their son's birth so far, it may not be too long until Gunner makes his social media debut. And looking back at his parents' epic pregnancy photoshoots, there's no doubt that they'll go all out for their son's first glamour shots.
Watch Romper's new video series, Romper's Doula Diaries:
Check out the entire Romper's Doula Diaries series and other videos on Facebook and the Bustle app across Apple TV, Roku, and Amazon Fire TV.