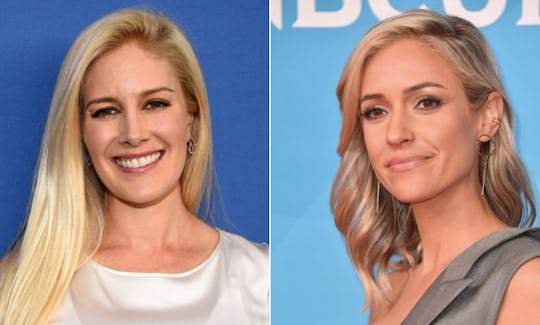 Araya Diaz/Getty Images Entertainment/Getty Images/ Alberto E. Rodriguez/Getty Images Entertainment/Getty Images
Just Like The Rest Of Us, Heidi Montag & Kristin Cavallari Text About Motherhood
No matter how much time has passed, or how much distance separates you, people have a way of connecting with old friends when it comes to important milestones in life. Having a baby is definitely one of these occasions. Both soon-to-be and new parents likely source their parenting advice from a number of different places, whether it's from their pediatricians or reliable online sources or from their friends and family. And old friends who are already seasoned parents can offer a plethora of wisdom, as one pair of celeb friends has found out. As revealed in a recent interview, The Hills alum Heidi Montag texts Kristin Cavallari "any and every" motherhood question, because celebs really are just like the rest of us.
Montag and her husband, Spencer Pratt, welcomed their first child back in September, baby boy they named Gunner Stone, according to Us Weekly. When they first announced Montag's pregnancy in April 2017, the mom-to-be was the first to admit she had no idea what they were getting themselves into.
"I have never been more excited," Montag told Us Weekly at the time. "The reality is sinking in that we are going to have a child! I've read every pregnancy book, and now I realize I don't know anything."
Well, it seems like after hitting the pregnancy books hard, Montag wisely turned to her old friend and fellow The Hills alum, Kristin Cavallari. Cavallari has three children herself with her husband, Jay Cutler: Camden. 5 1/2, Jaxon, 4, and Saylor, 2, according to E! News. So it makes sense that Montag — who is still relatively new at this whole parenting business — would reach out and tap into her hard-earned personal experience.
On a recent episode of Watch What Happens Live With Andy Cohen, Cavallari opened up about her relationships with her former co-stars from The Hills. During the interview, which aired on Wednesday, she mentioned that she and Montag still talk regularly, as E! News reported.
"Heidi has texted me with any and every question about being a mom," Cavallari told Cohen. "I talk to her all the time. She's doing great."
However, it's a bit of a different story with former pal, Lauren Conrad. "There's no animosity, but we've never stayed in touch," the mom of three explained to Cohen.
Although Cavallari has publicly received flak for her parenting choices, she has remained steadfast in her approach — like how she feeds her children, for example. As People reported, Cavallari has said she has "become a psycho about reading every single ingredient label and researching the ingredients I don't recognize." The shoe designer went onto explain, according to People, that she avoids GMOs, eats mostly organic, and goes for only wild-caught fish or grass-fed beef. She continued:
How I eat, I cook at home, and that's what they eat. But we go out to breakfast every weekend. They get donuts every weekend. It's not like they're on some stupid diet. They're kids ... Getting backlash about anything I'm doing when it comes to parenting, I really don't give a s— about because I'm so confident at what I'm doing as a mom that I don't care.
Back in 2014, Cavallari also got slammed for her decision not to vaccine her son, Camden, according to Entertainment Tonight. After revealing this bit of information that March, she defended her decision two months later during an appearance on Watch What Happens Live!
"There are very scary statistics out there regarding what is in vaccines and what they cause -- asthma, allergies, ear infections, all kinds of things. And we feel like we're making the best decision for our kids," she hold Cohen at the time, according to Entertainment Tonight. "Here's the thing: At the end of the day, I'm just a mom. I'm trying to make the best decision for my kid."
Because I was the first, by far, out of my little group of friends to start a family, I didn't really have any peers to turn to for parenting advise. But I guess that's to be expected when you get pregnant at 22 — fresh out of college and just a few months after getting married. Fast-forward seven years or so, and now I've become the baby gear advice-giver/person my friends reach out to about not-yet-disclosed pregnancies.
Granted, I wouldn't necessarily rely on people who aren't doctors for medical advice when it comes to my children. (*Cough* Like vaccinations. *Cough*) But when it comes to practical, everyday stuff, been-there-done-that friends can offer a wealth of knowledge. And I think it's incredibly sweet that Heidi Montag and Kristin Cavallari are now walking this path together.