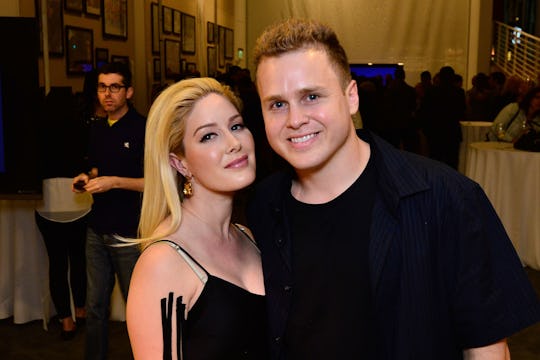 Jerod Harris/Getty Images Entertainment/Getty Images
Heidi Montag Snapchats Her Ultrasound Pics
The Hills alum Heidi Montag has continued to share details and updates from her pregnancy on social media after first announcing the news back in April, and now that her due date is getting closer, she seems more excited than ever. While the former reality star is pretty active on Instagram and Twitter, Heidi Montag's Snapchat ultrasound pic marks the first time the mama-to-be has shared a pic of her son in utero. According to US Weekly, Montag shared a shot from her most recent 3D ultrasound, showing her growing baby boy along with the caption, "my angel."
One thing she has been more than happy to post though? Photos of her growing baby bump. Due to give birth to her first child in October, Montag has been happily sharing photos of her emerging pregnancy belly on her various social media accounts, clearly loving the experience of watching her baby get bigger. In her most recent Instagram pic, the now-5-months-pregnant Montag shared a cute video clip of herself with her friend (and new mom) reality TV star Natalie Nunn, showing the two ladies happily cradling Montag's belly. And in another recent pic, Montag showed off her bump in a long, black dress.
According to E! News, Montag and Pratt first learned that they were expecting a boy back in May, after getting a call from their doctor who told them the news. Montag said she "started screaming" after finding out, and admitted that she had been hoping they were pregnant with a boy — in part because Pratt has such a close relationship with his own father that she "thought it'd be a more natural bond" for him to have a son as his first child. But Pratt, for one, didn't necessarily agree; although Montag said her husband was "really excited" to have a son on the way, she said,
I thought Spencer really used to want a boy, and then a few months ago we had a conversation where he said, 'Let's just make sure it's healthy. Boy or girl, I don't care.'
In fact, Pratt himself made that pretty clear in a recent interview with AskMen.com. When asked about his feelings about knowing he would be having a little boy, the dad-to-be admitted that after his own mom had a difficult birth when he was born, and the only thing that mattered to him now is that Heidi's delivery is healthy and smooth:
Like, who cares about gender. I just want my baby to be healthy and have a strong heart. I'm past gender. I just want a healthy baby, because you know, I was born blue and I probably lost a lot of brain cells that I definitely needed in the past few years of my life, so you know, definitely just want a nice, chill birth for Heidi, no drama, you know, no umbilical cord wrapped around its neck or anything.
Another aspect of parenting that Pratt definitely cares about more than whether or not he's having a boy or a girl? The impact that technology could one day have on his son — as well as the possibility that he'll end up watching mom and dad's old reality TV appearances. When asked about his fears about fatherhood, Pratt told AskMen.com,
Probably once our child has internet access… there's too much stuff on the internet ... I just don't want them to know how horrible the world is! I didn't realize how horrible the world is until like, last year. I'm just so nervous for their brain to be corrupted at such a faster speed than how I grew up.
As for whether he'll let his son watch The Hills one day? Pratt told AskMen.com that he was pretty resolute:
Hell no! They'd just lose brain cells. I'm trying to have really smart kids. With all due respect to Heidi and I, we cannot afford any less brain cells than they're already starting with at the gateway.
Montag and Pratt might not be everyone's favorite celebrity couple to say the least, and while they seemed to have matured and mellowed quite a bit, their "Speidi" days might still not be entirely behind them. At the same time though, their excitement and happy anticipation for their son's arrival seems totally genuine. They may have made their living by crafting totally absurd reality TV personalities, but when it comes to parenthood, Montag and Pratt are definitely taking the major life change very seriously.