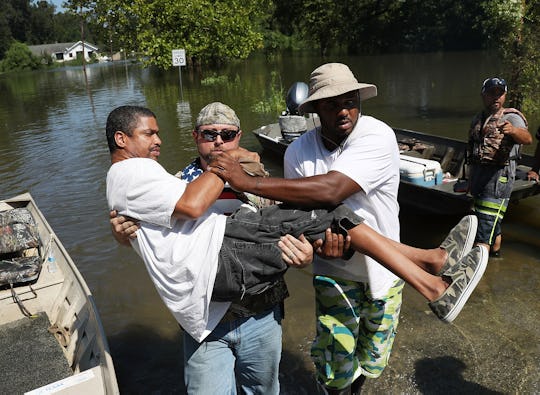 Joe Raedle/Getty Images News/Getty Images
Here Are 5 Of The Most Heroic Acts People Carried Out After Harvey
Hurricane Harvey hit Texas with all it had earlier this week. Fortunately, the people of Texas, as well as those supporting them around the country, have proven that they can hit back just as hard. There's no greater proof of that than the most heroic acts people carried out after Harvey. From enormous kindness and generosity to complete strangers to shows of extreme bravery, Harvey heroes have caught national attention, and deservedly so.
When the hurricane first made landfall late last week, it was a powerful Category 4, CNN reported. Despite its rapid demotion from hurricane to tropical storm, it brought with it catastrophic damage. With biblical flooding and a rising death toll, the storm has greatly impacted southeast Texas. Locals seeking refuge from the flooding and devastation number in the tens of thousands. Entire cars and houses have been washed away. A number of people are missing or confirmed dead, and reports are still coming in on the loss of life and property.
However, hope is not lost. Average Joes in and around Texas have banded together to combat this hardship and rebuild. Each of these examples of heroism is a testament to people's capacity for compassion and what they are capable of when they pool their efforts and resources:
Mattress Mack Provides Shelter
Jim McIngvale, also known as Mattress Mack, is the owner of Gallery Furniture in Houston. McIngvale opened the doors of his store to provide refuge for humans and animals alike. In a tweet, Mattress Mack invited anyone in need of shelter to join him and has since taken in hundreds.
Local Reporter Saves The Life Of A Truck Driver
While on air, a Texas television reporter Brandi Smith flagged down a rescue boat in order to save the life of a man who was trapped inside his sinking truck. The video of this rescue has since gone viral.
The Continued Involvement Of The U.S. Coast Guard
The U.S. Coast Guard has reportedly coordinated more than 4,500 rescues since Harvey hit. Members remain on the ground, carrying flood victims to safety by boat and helicopter.
Anheuser Busch Cans Drinking Water
The popular beverage company paused the production of beer in its Cartersville, Georgia location to can potable drinking water to be sent to victims of Hurricane Harvey. Over 155,000 total cans of water were sent to affected areas as a part of the Anheuser-Busch emergency drinking water program.
Numerous Animal Rescues
While their numbers are not included in the official death toll of the storm, the animals in Southeastern Texas are also victims of Harvey. Numerous organizations and individuals have made it their mission to save as many of these lives as possible.
As heartbreaking as the stories and images coming out of Texas are, these tales of everyday heroism such as these remind us of the human ability to persevere and rebuild.