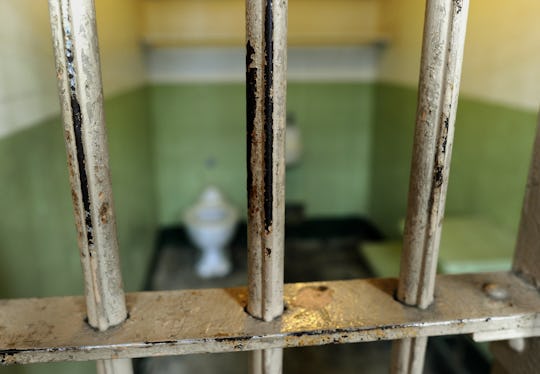 TIMOTHY A. CLARY/AFP/Getty Images
Here Are 6 People Who Got More Time Than Brock Turner
In the wake of BuzzFeed's viral "Letter to My Rapist" this week, there has been widespread outrage that Brock Turner — the 20-year-old former Stanford University student found guilty of sexually assaulting an unconscious woman — received such a light sentence for his crimes. Turner was found guilty of three felony counts of sexual assault. Turner faced a maximum sentence of up to 14 years in prison; instead, California Judge Aaron Persky sentenced Turner to just six months of jail time and three years probation. Most convicted rapists get more time than Brock Turner has — even perpetrators who are college students.
What's particularly concerning is that, not only will Turner most likely spend just three months actually behind bars, Persky actually said prison would "have a severe impact on" Turner. Persky can apparently also predict the future when he also said he didn't think Turner "will be a danger to others." In the Stanford sexual assault case, it's exceptional that Turner was even arrested and brought to trial, much less found guilty for his crimes. Here are seven students convicted of sexual assault who got more prison time than Brock Turner — proving that his sentence was indeed just a slap on the wrist in comparison.
Owen Labrie: 1 Year
In October 2015, then 20-year-old Owen Labrie was sentenced to one year in jail and five years' probation after being found guilty on three counts of statutory rape, one count of endangering the welfare of a child, and one felony count of using a computer to lure a minor. He was, however, acquitted on charges of raping a 15-year-old girl at school. Labrie was a student at the prestigious St. Paul's School in Concord, New Hampshire, a private boarding school whose most notable alumni include the Secretary of State John Kerry. Labrie's case brought to light a disturbing student tradition called the "Senior Salute" at St. Paul's School, where senior students proposition as many underclassmen for sexual favors as they can before they graduate.
Patrick Durocher: 3 To 5 Years
Patrick Durocher, a 20-year-old former University of Massachusetts Amherst student, was sentenced to three to five years in state prison in February of this year after being found guilty on charges of rape and assault and battery of a fellow student. Durocher's and Turner's cases bear some disturbing similarities, including that both men were college freshmen, drunk, and most notably that Durocher raped his victim on a lawn at UMass Amherst. The starkest difference however, is that New Hampshire Superior Court Judge Mary-Lou Rup said during Durocher's sentencing hearing that "the offense of which you've been charged and convicted in my opinion is too serious to warrant probation" — a complete 180 from what Persky thought for Turner.
Robert Godeaux Savoy III & Christopher James Weekly: 8 Years Each
Robert Godeaux Savoy III and Christopher James Weekly were two former students at Western Oregon University. Both 23 years old, Savoy was listed as a wide receiver for the school's football team. In February this year, Savoy and Weekly were each sentenced to eight years in prison after being convicted of raping a fellow WOU student in an off-campus apartment. While both were students at the time of the rape, neither Savoy nor Weekly graduated from the university.
Tevin Elliott: 20 Years
Tevin Elliott, a then 22-year-old former Baylor University football player, was sentenced to 20 years in prison — the maximum sentence — after being found guilty of two counts of sexual assault of Baylor freshman student at an off-campus party. While Elliott was convicted of sexually assaulting the same student twice, three other Baylor students accused him of sexually assaulting them but one of them declined to testify. Elliott will be eligible for parole after serving at least 10 years of his 20 year sentence. (It's worth noting that Elliott is a man of color and received the maximum sentence for his crimes.)
Cory Batey: Up to 25 Years
Corey Batey, a 22-year-old football player at Vanderbilt, was sentenced to 15 to 25 years in prison for the aggravated rape of an unconscious student in his dorm room. While Batey's formal sentencing hearing has been moved to July, he was remanded into custody for the mandatory 15 to 25 year minimum sentence. Yet again, Batey's case — when compared to Turner's case, in which he also assaulted an unconscious woman — exemplifies the effects of racism in the criminal justice system and shows just why outrage at Turner's punishment has been so severe.
CORRECTION: An earlier version of this post included the case of Evan Pfeifer, a University of Iowa student convicted of third-degree sexual abuse in 2012 and sentenced to 10 years in prison, and failed to appropriately report the events following that conviction. The post originally stated that Pfeifer's sentence was overturned in 2015 and that Pfeifer was not retried because the accuser declined to testify a second time. Pfeifer's conviction was vacated on the basis of errors by his defense attorney and prosecutorial misconduct. The state chose not to pursue a second trial after the accuser declined to testify a second time and, according to Pfeifer's attorney, after Pfeifer passed a polygraph test. Romper regrets the error.