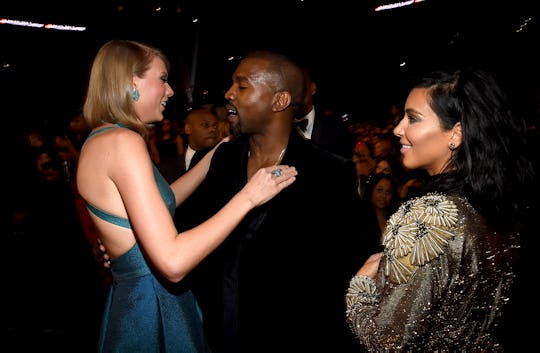 Larry Busacca/Getty Images Entertainment/Getty Images
Here's *Every* Kim & Kanye Reference In Taylor Swift's 'Reputation'
The world will never be the same now that Taylor Swift's sixth studio album has finally been released. So, given what's happened over the past couple years, there are obviously plenty of Kim Kardashian and Kanye West references in Reputation. Thinking back, Swift's highly-publicized feud with the famous couple was likely a huge, emotional strain for the singer, and she was on the receiving end of a lot of harsh comments from internet trolls.
At the height of Swift's feud with Kimye, hashtags like #TaylorSwiftIsOverParty (which, obviously, is not true) and #RIPTaylor were born, and fans of Kardashian and West took to Swift's social media accounts to overwhelm her feed with snake emoji. Of course, Swift then reclaimed the snake imagery with her album announcement and music video for "Look What You Made Me Do," but that isn't all she's reclaiming with Reputation. Fittingly, Swift is taking this moment to tell her side of the story regarding the Kimye drama, and rightly so.
But, before we dive into all of those references, here is a quick recap of what, exactly, went down between the three moguls:
Back in 2009, Swift was just a 19-year-old country singer with two albums out. But, she was already a superstar nominated for a number of awards at the MTV Video Music Awards. Then, when she won the award for Video of the Year, West infamously interrupted her acceptance speech, taking the mic from her as she was on stage. After that, the two had a pretty tumultuous relationship.
But, in 2015, the hatchet seemed to be buried, with Swift even presenting West with the Video Vanguard Award at that year's VMAs. West even sent Swift flowers! All was well. Until, it wasn't.
In February 2016, West released his single, "Famous," in which he raps, "I feel like me and Taylor might still have sex / Why? I made that b*tch famous." Obviously, a risqué lyric, but West claimed that Swift approved the line. However, Swift reportedly denied this, and in an acceptance speech, Swift quipped, "there are going to be people along the way who are going to try to undercut your success or take credit for your accomplishments or your fame." A pretty clear reference to West's dig at her.
Then, just when you thought it was over, West's wife, Kim Kardashian, decided to get involved. In July 2016, Kardashian shared a video on her Snapchat of a phone call between West and Swift, in which Swift appears to OK the lyric, contrary to what her reps had previously said. But then, Swift took to Instagram to voice her frustrations herself:
Where is the video of Kanye telling me he was going to call me "that b*tch" in his song? It doesn't exist because it never happened ... I would very much like to be excluded from this narrative, one that I have never asked to be a part of, since 2009.
Basically, Swift maintained that she never approved being called a "b*tch," which makes total sense. Fast forward to August 2017, and Swift's new album announcement and subsequent singles and music videos have made way for a lot of Kimye references.
So... are you ready for it? Of course you are, so let's dive right in:
One Lyric In "End Game" Is Very Telling
While most of "End Game" is a fun bop likely about a romantic relationship, one line in the pre-chorus is a definite nod to West and Kardashian. "I got some big enemies," in particular, is a definite nod to Swift's feud with the famous couple. Because really, in Hollywood, I don't know if there could be a bigger set of enemies than West and Kardashian.
She Did Something Bad
Track three of Reputation, "I Did Something Bad," definitely paints Swift in a darker light, although the exact meaning of the song is still up in the air. While the opening line, "I never trust a narcissist," could definitely be a dig at West, there are other lines that point to the narcissist being a romantic interest at some point. However, Swift then sings, "If a man talks sh*t, then I owe him nothing/ I don't regret it one big 'cuz he had it coming," which could also be a jab at West.
Then, in the chorus, Swift sings that "they say" she "did something bad," although it felt "so good" to her, and she would do it "over and over and over again." What's more, in the bridge, Swift sings one of the album's most poignant lines, "they're burning all the witches even if you aren't one/ they got their pitchforks and proof/ their receipts and reasons." With the "receipts" reference a pretty clear nod to Kardashian releasing footage on Snapchat.
So, what did Swift do? That's still up in the air, although the song could be a pointed reference to her many public feuds over the years, and all the "bad" things she's been accused of doing.
Look What You Made Her Do
Obviously, the first single from Reputation already has a reputation of its own, as it was released in August. But it's still worth noting that the song (and especially the music video) was Swift's soundtrack to her reemergence onto the music scene, and the most telling lyrics still hit pretty hard. "I don't like your perfect crime/ How you laugh when you lie," is an apparent nod to Kardashian's recording of Swift, which Swift claims she wasn't aware of and could very well have become a legal matter, as TIME theorized.
And the iconic line, "I'm sorry, the old Taylor can't come to the phone right now/ Why? Oh, 'cuz she's dead," is another obvious nod to the #RIPTaylor trend.
Clearly, though, Swift is far from dead, and she's here to tell the haters exactly what she's thinking.
She Knows Why We Can't Have Nice Things
Probably one of the most Kimye-centered songs on the album, track 13, is entitled "This Is Why We Can't Have Nice Things," and while the "nice things" Swift refers to might be somewhat metaphorical, the reasoning behind not having them certainly is not.
In the beginning of the song, Swift sings about a Gatsby-esque time in her life until someone came and ruined it. "Why'd you have to rain on my parade?" she sings, before delving into some subtle shade-throwing. "Did you think I wouldn't hear all the things you said about me?" Swift asks, before getting into the nitty-gritty.
"It was so nice being friends again/ there I was giving you a second chance," she says, which could be pointed at Swift and West's public make-up in 2015. But, that didn't last long, as Swift goes on to say "but you stabbed me in the back while shaking my hand."
Yeah, she went there. But that's not all. Swift also makes a thinly-veiled jab at Kardashian, when she sings "friends don't try to trick you/ get you on the phone and mind-twist you." Oh, and Swift also refers to the subject of the song as "shady," so, make of that what you will.
Call It What You Want, But I Call It Subtle
While track 14 of Reputation is definitely a love song, there are still a few subtle (or not-so subtle) references to Swift's Kimye drama. Specifically the lyrics, "My castle crumbled overnight/ I brought a knife to a gunfight/ They took the crown, but it's alright/ All the liars are calling me one," are a sure-fire references to the highly-publicized fight.
And the line, "All the drama queens taking swings/ All the jokers dressing up as kings," could also be referring to Kimye's drama.
Needless to say, given all of these (subtle and obvious) references, Swift isn't holding anything back.
Check out Romper's new video series, Romper's Doula Diaries:
Watch full episodes of Romper's Doula Diaries on Facebook Watch.