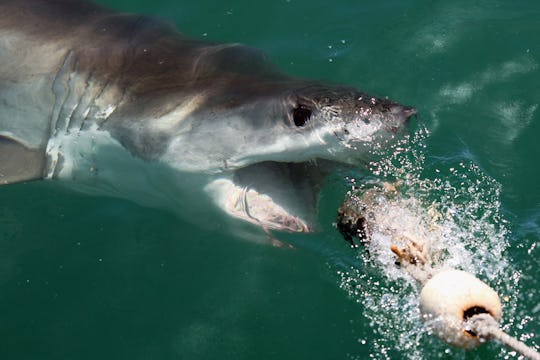 Dan Kitwood/Getty Images News/Getty Images
These Celebrities Face Their Fears On 'Shark Week'
The incomparable Shark Week is coming, and for it's 30-year anniversary, the Discovery Channel is bringing a ton of celebrities to help celebrate these amazing animals. From TV stars to superstar athletes, here are all the guest stars who will be appearing on Shark Week, because you're not going to want to miss out on any of the "jawsome" action.
With 30 years of Shark Week under its belt, the Discovery Channel has produced some of the most informative and exciting shark specials on TV, along with accumulating hours and hours of footage of these mesmerizing creatures. In a press release, the network revealed that this year Shark Week would feature "the most hours of shark programming ever" and bring fans "over twenty hours of celebrity surprises and jaws-dropping shark stories."
Along with some of the older content, from July 22 through July 29, the Discovery Channel will air 22 brand new shark specials, featuring the world's leading shark experts, divers, and photographers. Some of the biggest names in sports and television will be joining them on their journeys into the ocean. If you can't wait to watch superstars interact with sharks then check out the celebs who will be making a Shark Week appearance.