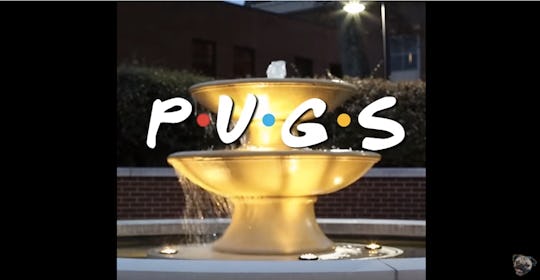 Here Are Pugs Recreating TV Show Intros, Which Is A Thing You Definitely Do Need — VIDEO
There's a hole in your life right now that you didn't even know existed. Not until you saw this video of pugs recreating the opening credits to all of your favorite TV shows. Did you know you needed to see this video? You probably didn't. But, like many things in Internetland, someone thought of it, someone took the trouble to create it, and now you know that you needed it all along.
Can I just say, thank God for the Internet weirdos. The creative souls who may not ever become the next Ridley Scott or Sofia Coppola, but have so much to share in other ways. I'm not talking about the adorable cat videos, although they have their place. No, I'm talking about Doug the Pug's owner, Leslie Mosier and others like her, and the lengths that they go to in order to entertain us, the pug-starved masses.
Of course, it doesn't hurt that Mosier was able to quit her day job in order to manage that adorable pug of hers, and commit to creating photos and videos of him full time. Once upon a time, a single video of Doug would have languished in an episode of America's Funniest Home Videos. And who knows? Maybe it would've won the Grand Prize, but let's be real here, Doug wouldn't have been seen by 15 million people. And, clearly, Doug the Pug needs to be seen by 15 million people.
So thank you, Internet, for giving this kind of bizarre, burgeoning talent a platform. And thank you for giving us something to watch on our lunch breaks.
Watch the full video of Doug the Pug's TV Show Compilation here:
Image: Doug The Pug/YouTube