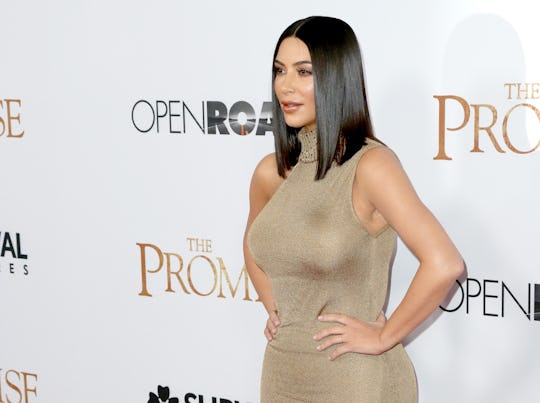 Frederick M. Brown/Getty Images Entertainment/Getty Images
Here Are The Alleged Contract Stipulations For Kim Kardashian West's Surrogate
It's still not officially confirmed, but multiple outlets have reported that reality TV's royal family has hired a surrogate to carry their latest heir. It begs the question, what does it take to gestate the most famous fetus in America? The legal documents will probably never be made public, but a few details may have been leaked. Here are the alleged contract stipulations for Kim Kardashian West's surrogate, according to TMZ:
The surrogate will be paid $45,000 in 10 monthly installments.
In the event of a multiple birth, she'll be paid a $5,000 bonus for each extra baby.
She'll be compensated $4,000 if she "loses reproductive organs" (seems kind of low).
No sex for three weeks after implantation.
No smoking, drinking, drugs, hot tubs, saunas, raw fish, or changing kitty litter.
She's not allowed to color her hair.
She can have one caffeinated drink per day.
Kim Kardashian West and her husband, Kanye West, will "assume the legal and parental responsibilities for any child ... that may possess any congenital or other abnormalities or defects."
Although the TMZ report appeared to quote directly from someone or something, it did not cite any sources, or publish any documentation. Kardashian West's representative has not returned Romper's request for comment.
While TMZ didn't provide any proof to its claims, it's well-known for being first on the scene with celebrity scoops that turn out to be true. The site was founded by Harvey Levin, a former attorney who, according to The New Yorker, insists on documentary proof before running a story. Surrogacy was openly discussed during the latest season of Keeping Up With the Kardashians, TMZ's report was independently confirmed by People, and none of the claims seem particularly outlandish, so it seems likely that the story is legitimate.
The Kardashians are a particularly media-savvy family, so it's doubtful that the public will get any more information than they're willing to share. The only other rumor about the surrogate's contract comes from The Hollywood Gossip, which sourced its information from a print issue of Life & Style. That report claims that the mystery woman "is being pampered and given everything she wants." Well, almost everything; she allegedly isn't allowed to "have very much sex in the final stages of her pregnancy." But honestly, "very much sex" isn't necessarily at the top of a woman's wish list in her third trimester, so maybe those claims aren't really at odds, after all. That's her business. As for the veracity of the other Kardashian pregnancy rumors — she's supposedly three months along, and maybe carrying twins. We'll find out in a few months.