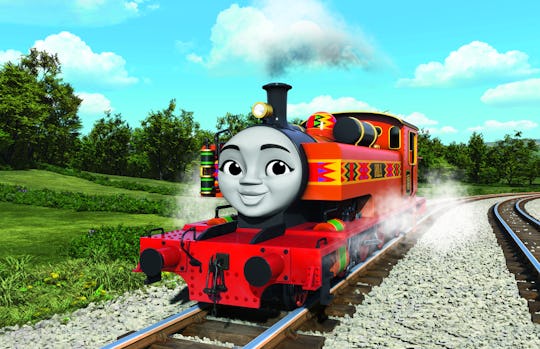 Mattel
Why Your Little Ones Should Be Watching The New 'Thomas & Friends'
Most of the English-speaking world is likely familiar with Thomas the Train. The friendly, anthropomorphized steam engine has been around since Wilbert Vere Awdry invented the character to amuse his son Christopher in 1942. The children's series Thomas and Friends has been around for decades, but only recently has started taking serious steps toward improving the show's gender and cultural diversity. The creators of a new female African character on Thomas and Friends, Nia, spoke with Romper about why exposing children to diversity early is so important — and why Nia is a role model to all.
Taking place entirely on the imaginary British Island of Sodor and with only one main female character — Emily — the show was hardly a sterling example of diversity. So for the first time in the series' long history, Thomas and his friends leave the Island of Sodor to have adventures around the world, including China, India, and Australia. The show is also introducing two much-needed girl characters: Rebecca, known for her strength, and Nia, a clever engine who comes from Kenya. Mattel consulted with UN Women and the Royal African Society when creating Nia, and cast a Kenyan-born actress to provide the upbeat character's voice. The character's creators wanted Nia to better reflect the gender and race of the show's actual audience, and to enforce a message of tolerance and diversity for children.
Series producer Ian McCue points out that the six main characters in the show used to include only one girl engine, "poor old Emily," which was nowhere near reflective of the actual audience demographics, of which nearly half were girls. "We really wanted to give our girl audience some great characters to champion," he says. McCue believes in teaching diversity early, because 2 to 4-year-old children, the main audience for Thomas and Friends, haven't yet learned to discriminate. "I think we can get in here early with the young preschoolers and start teaching them that boys and girls are equal."
Nia is a part of Thomas and Friends' overall modernization, which also includes a new theme song and a new format, in addition to the new characters. She was first introduced in the film, Thomas and Friends: Big World! Big Adventures!, where Thomas met her as part of his round-the-world adventure.
The education and outreach program manager of the U.K.'s Royal African Society, Joanna Brown, was instrumental in creating the character of Nia, and ensuring that she was accurately representative of the country of Kenya, as well as Africa as a continent. Like McCue, Brown also points out that young children have not yet learned to discriminate based on gender or race. But she further points out the responsibility children's media has in ensuring that adult biases are not making their way into kids' shows. "They're still kind of subject to the images and stories that might set up sometimes perhaps quite narrow expectations about what you might expect from your life if you're a boy and what you might expect from life if you're a girl, how you might think of people who come from countries other than your own," Brown says, adding, "So I think it's really important that we're very, very conscious in the media what we expose children to ... that we're not replicating any of our adult biases."
Yvonne Grundy, who voices Nia, notes the importance of representation in media, especially for young children. "I'm always happy thinking that there's a little black girl somewhere watching Thomas and Friends and she sees Nia and she thinks, 'Oh, Nia is like me.' And she then feels a sense of value... that her story matters."
Tolupe Lewis-Tamoka, Africa Programme Adviser for Un Women, was another consultant on the Nia character. For Lewis-Tamoka, it was important that Nia be a confident and motivated young female character who is able to fulfill her own dreams and goals, proving to young audiences that girls can achieve any tast that they're presented with. On why diversity is important in kids' shows, Lewis-Tamoka says, "At this age the mind and the views and the values of young kids are forming. And it's important that in their daily lives they come face to face with shows and films that help shape their characters positively."
Studies indicate that a good way of preventing prejudice in childhood is to show children positive role models from other backgrounds — like Nia. One new character on one children's show isn't going to solve implicit bias. But there's no doubt that this classic show's diverse makeover is a big step in the right direction.