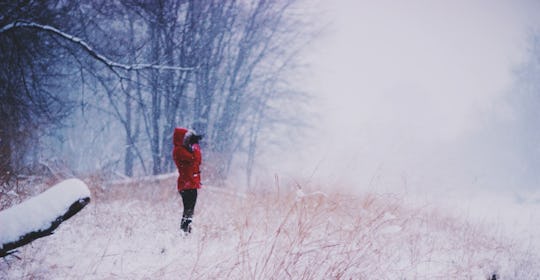 Here's A Brilliant Way To Take Off Your Kid's Boots, & 10 Other Must-Know Winter Parenting Hacks
There are two types of parents in this world: the kind that embrace winter and encourage their kids to enjoy it to its fullest, and the rest of us. The rest of us are just trying to get through this horrible season alive and in one piece, and looking for all the help we can find. That's why videos like this life hack to help take kids' boots off are so handy. Hell, this might even make me let my kids out in the backyard since I no longer have to dread wrestling them out of their snow gear when they're done. What a time to be alive.
This brilliant trick got me thinking: We cold weather parents really have to stick together and share our secrets. Are there shortcuts to make winter with kids more manageable? If you happen to know of some, for the love of God, don't keep them to yourselves. It's selfish, plain and simple, guys. I need to know what you know. The people have a right to know!
OK, I'm calm. Sorry. Dried salt and puddles of melted snow in my doorway make me a little insane. I'm good now.
Here's me leading by example and getting the ball rolling. Now, granted, I don't have all the answers. I'm still muddling through the dark ages of wondering why the hell I have to walk my daughter a whole two blocks to and from school, twice a day (more, if she's coming home for lunch). I can barely tolerate it once the weather gets cold. So it remains true that our winter parent struggle is real, albeit slightly more tolerable with these genius little tips.