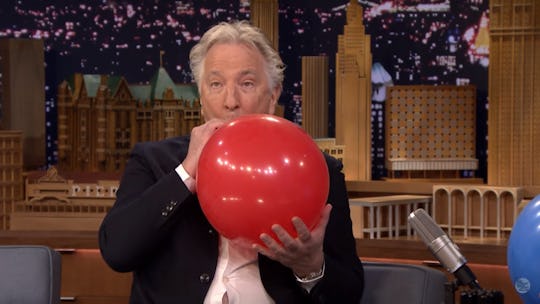 The Tonight Show Starring Jimmy Fallon/YouTube
Here's Alan Rickman's Last TV Appearance, Where He Proves He's Not Always Serious
Fans of Alan Rickman grieved Thursday, after learning that the actor died from cancer at the age of 69. And although most people probably picture Professor Severus Snape or Hans Gruber when they think of Rickman, he wasn't nearly as evil– or as serious! Rickman's last TV appearance, The Tonight Show Starring Jimmy Fallon in June 2015, highlighted the actor's playful side. Of course, nobody can be serious on Fallon's couch, but it's still surprising to see how goofy things get.
Rickman arrives with two balloons, and when questioned, he tells the story of his October 2013 appearance, in which the two discussed how people love to do Rickman impressions. "Then I learned that the very next night, Benedict Cumberbatch and you had what is described as a Rickman-off," Rickman says in the episode.
Indeed, Fallon and Cumberbatch did take turns reading hip-hop lyrics in Rickman's voice, and it was exactly as funny as one would imagine. But maybe not so funny for Rickman? As penance, Rickman orders Fallon to inhale helium from a balloon — or, as he refers to it, a "Jimmy Fallon truth-telling machine" — and explain himself. Man, missed opportunity to call the helium veritaserum, am I right? The results are, of course, adorable.
Need more laughs? I've got you covered. Check out the clip that started it all, Fallon and Cumberbatch's Rickman-off:
If fans are really feeling down about the actor's death, they should gather and have their own Rickman-off. May I suggest something by Salt-N-Pepa to get you started? Perhaps "Push It"?
Image: The Tonight Show Starring Jimmy Fallon/YouTube