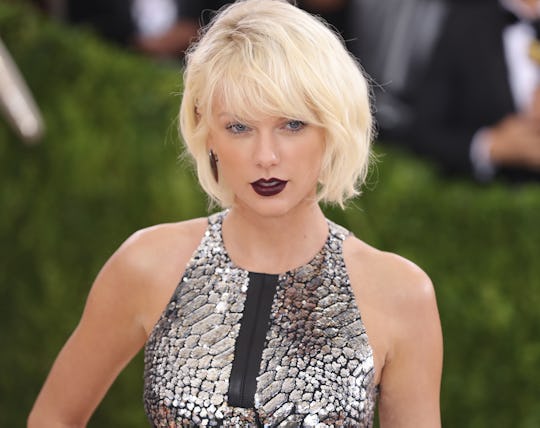 Neilson Barnard/Getty Images Entertainment/Getty Images
Here's All The Evidence Taylor Swift & Drake Are Dating
Taylor Swift and Drake fans, listen up! There's a new rumor going around, and people are starting to collect evidence that Taylor Swift and Drake are dating — which is either very exciting for their fans, or absolutely terrible news (my condolences, #HiddleswiftForever fans). But could the two stars, who are both very much at the top of their game, actually be seeing one another? Let's take a look at the facts fueling the rumors.
May I direct the jury's attention to Exhibit A, also known as That Time When Drake Introduced Swift To His Mom. According to TMZ, Swift dropped by Drake's 30th birthday party on Sunday, where his mother, Sandi Graham, was in attendance. (Let's pause right here for a quick aww, folks.) A couple of happenings raised eyebrows: first of all, Drake reportedly introduced Swift to his mother, and second, according to E! News, he spent a moment by the DJ talking to Swift with his arm around her shoulders. Other sources say Drake flirted with Swift all night.
Those who are all for a Drake-Swift relationship are pointing to the fact that Swift met former beau Tom Hiddleston's mom pretty quickly after they started dating. Swift's introduction to Graham could be the start of something new... but it could also just be that Drake wanted to introduce his mom to the current reigning queen of pop. After all, both TMZ and Just Jared report that Swift and Drake are just friends. And the same source that reported that cute moment by the DJ to E! News also described it as "a real friend moment," saying, "It looked like they were talking about something deep."
Okay, so onto the next piece of evidence. When Swift shared a picture on Instagram of her show at the Circuit of the Americas on Oct. 22, Drake commented with a small, green checkmark emoji of approval, according to Hollywood Life. This could mean several things: Drake could be a fan, Drake could be interested in collaborating with Swift, Drake could be a supportive friend, or, you know, Drake could be in love. They're all plausible options.
Last but not least, there are reports of both stars' exes reacting to their possible relationship. According to Hollywood Life, a source said Rihanna warned Swift to stay away. That source reportedly said: "Taylor doesn't stand a chance with Drake. She ain't got nothing Drake wants and she certainly doesn't want the type of headaches and drama he's capable of giving a woman."
On Swift's end, ex Hiddleston is supposedly "shocked" to hear about Drake and Swift, with a source reportedly telling Hollywood Life: "Tom is in a bit of denial about the thought that Taylor and Drake could be a new couple. Although Tom may wish the best for Taylor, he just doesn't want to believe it and couldn't see that one working out."
Either way, the internet has done a very good job at honing in on the possible outcomes of a Drake-Swift relationship. Both singers are pretty good at folding their own love lives into their songs, so if Drake and Swift are actually a thing, it'd be pretty cool to hear both of their perspectives on it through their respective songs.