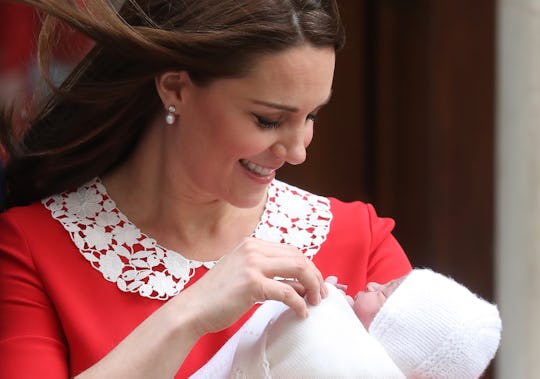 Chris Jackson/Getty Images Entertainment/Getty Images
Here's Another Reason Kate Middleton Is A Supermom, If You Weren't Already Convinced
Through the years, the Duchess of Cambridge, Kate Middleton, has gained somewhat of a reputation for her awesome parenting skills. I mean, think about it: It can't be easy to remain calm and collected at official royal events when you have young children. Even if Prince George and Prince Charlotte are royals, they're still just kids — who have tantrums, need naps, and are suddenly totally over being in certain situations. With that said, the way Middleton handles her kids' shenanigans is truly impressive to many. Somehow — without any shouting — she is able to communicate with her kiddos at their level and redirect their behavior in a positive way. (Teach me your ways!) Well, here's yet another reason Kate Middleton is a supermom with the royal kids, in case you needed more proof.
On Monday, Hello! Magazine reported the Duchess of Cambridge didn't waste any time getting herself and the kiddos back into their routines after giving birth to Prince Louis. As you might remember, Middleton delivered her third child during the early morning hours of April 23 — and then proceeded to introduce the newest little prince to the world just seven hours later, as People reported. She looked stunning, I might add, in full makeup and hair so soon after birthing a tiny human. Fans were equal parts impressed and shocked at how soon the Duchess appeared on the steps of St. Mary's Hospital with her son and husband.
Now, the world is learning of an equally impressive feat for a newly postpartum mom. Because apparently, according to Harper's Bazaar, Middleton reportedly took her eldest child, Prince George, to school the vey next day.
Prince George started attending Thomas's Battersea back in September and unfortunately, Middleton was unable to be there for his first day of school due to her debilitating hyperemesis gravidarum, according to Us Weekly. (It's an extreme case of nausea and vomiting that is sometimes so severe, it requires expectant moms to be hospitalized due to dehydration/insufficient nutrients, according to TIME.) Rest assured, though; Prince William was still there to see off Prince George on his first day.
However, should these new reports be accurate, Middleton certainly made it a point to be the one to do the morning school drop-off on April 24. That she was the one taking Prince George to school wasn't so much of a shock itself — as Middleton and Prince William regularly do so. "No one really gives Kate a second glance when she does the school drop-off," one parent said, according to the Daily Mail. "We have a Victoria's Secret model doing the school run, too, and the dads are far more interested in her!" It was the fact Middleton reportedly resumed taking her son to school literally one day after giving birth that is so mind-boggling.
In other recent supermom news, Middleton had a chance to show off her ninja-like reflexes during the Trooping the Colour back in June, E! News reported. The royal family was observing the fly-overs from the balcony of Buckingham palace on June 9, when Princess Charlotte stumbled backward off the step she was standing on. Luckily, though, Middleton was right behind her — and managed to reach out to steady her daughter before she completely wiped out. (Skip ahead to the 2:06 mark to see Duchess Kate's master mom reflexes in action.)
But back to Kate Middleton taking Prince George to school just one day after giving birth... I certainly can't speak for the Duchess, but I know I was anxious to resume some sense of normalcy after delivering my babies — and especially after baby number three. Yes, my body was still healing from childbirth, but it was freeing to be able to move around without a full-term bump physically hindering me. Plus, I had missed my older kiddos after being away from them for the hospital labor and delivery. So a quick school drop-off run for some fresh air — and leaving dad in charge of the new baby for a short while — would have sounded pretty enticing to me, too.