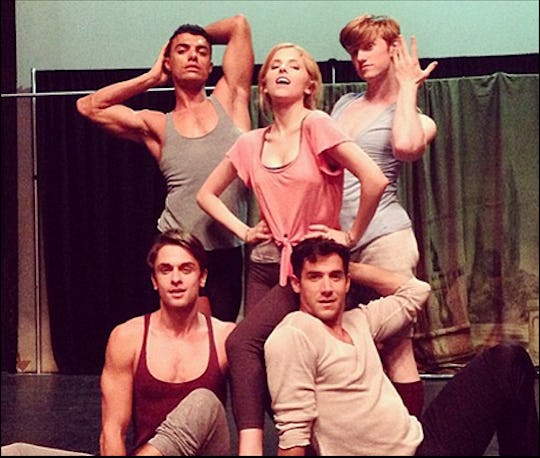 Here's Everything Coming To Netflix In January, Like You Need Another Excuse To Stay In
New year, new you, new streaming options. That's right, there are new TV shows and movies coming to Netflix in January, and it's a pretty exciting list. From classic comedies to terrifying thrillers to cute children's content, there's something for everybody to enjoy. (So good luck fighting over the remote.)
I, for one, have made a New Year's resolution to watch more TV. I know that may sound counterintuitive to most resolutions, but there are so many shows and movies I've been meaning to watch for years now, but instead I end up watching Friends for the upteenth time. This year, I'm promising myself to watch more of the myriad options Netflix has to offer, including all of the exciting titles coming to the streaming service in January.
Netflix is really starting 2016 off right by adding an assortment of movies and television shows to its lineup. There's a good collection of movies you've always loved and want to watch again, as well as some more obscure films you probably haven't seen yet. Some of the best shows on Netflix are adding more seasons; there are interesting documentaries and laugh-out-loud comedy specials; and there's also a nice new sampling of kid-friendly shows for when you need to just plop your tykes in front of the TV for a minute and take a breather.
With 77 new titles being added in January, there's a lot to comb through. Here are my top 9 picks for streaming this month, followed by the full list of everything Netflix will be adding. Happy binging!
Degrassi: The Next Class — Season 1
The paradigm in teenage dramas has returned. Reappearing as a new Netflix original series, the latest installment of Degrassi debuts on January 15, so get ready to get sucked back into the world of high school.
New Girl — Season 4
I don't know about you, but I just can't get enough of Jess and her goofy roommates. I've watched the first three seasons on Netflix more times than I would like to admit to, so I'm pretty stoked to have the next season available for streaming starting January 5.
Ice Age: The Meltdown
Ice Age is one of those cartoons that's just as much fun for the adults as it is for the kids. The Meltdown hits Netflix on January 1, so grab the tots and watch the film as a holiday event.
The Last Five Years
This unconventional romantic comedy looks at the deterioration of a relationship over the course of five years. But as Jamie tells the story from the beginning, Cathy tells the story from the end — and they meet in the middle, for one shining, fleeting moment of happiness. Based on the hit musical, and staring Anna Kendrick, I could not be more excited to watch this movie when it hits Netflix on January 15.
Sharknado 3: Oh Hell No!
I mean, c'mon. I'm curious. And don't act like you aren't! You can start watching on January 22.
Pride and Prejudice
You just can't beat a classic Jane Austen romance, especially ones that stars Kiera Knightley. It comes to Netflix on January 1, and I can't think of a better movie to ease my New Year's Eve hangover.
Parks and Recreation — Season 7
Adding the finale of Parks and Rec to Netflix is a new year's gift to us all. Start re-watching the first six seasons now so that you can be ready to binge the final one come January 13 once it's available to stream.
Chelsea Does
This Netflix original is just like Chelsea Handler herself: funny, insightful and completely irreverent. Nothing is sacred, and everything is up for question in Handler's documentary. It hits Netflix on January 23, and I'm sure it'll be just as fun as we think it will be — if not even more so.
Meet The Parents
This classic comedy comes to Netflix January 1st, so get ready to laugh at loud as Ben Stiller and Robert De Niro go head to head in this hilarious film.
And without further ado, here's everything else Netflix will be adding in January. Get excited.
Movies/Documentaries
2 Fast 2 Furious (January 1)
Along Came Polly (January 1)
Bring It On: Fight to the Finish (January 1)
Bring It On: In It to Win It (January 1)
Catwoman (January 1)
Constantine (January 1)
The Good Road (January 1)
House of Wax (January 1)
How to Change the World (January 1)
Intolerable Cruelty (January 1)
Journey to Le Mans (January 1)
Lions of Punjab (January 1)
Meet the Fockers (January 1)
Piku (January 1)
The Rundown (January 1)
Shout Gladi Gladi (January 1)
Smokin' Aces 2: Assassins' Ball (January 1)
Something New (January 1)
Stephen Fry Live: More Fool Me (January 1)
Swordfish (January 1)
We Need To Talk About Kevin (January 1)
The Wedding Date (January 1)
The Whole Ten Yards (January 1)
30 for 30: Four Falls of Buffalo (January 2)
Blunt Force Trauma (January 4)
Training Day (January 4)
Adult World (January 8)
Tom Segura: Mostly Stories (January 8)
Dos Hermanos (January 10)
El Hombre de al Lado (January 10)
Esperando La Carroza (January 10)
The Marziano Family (January 10)
Rosario Tijeras (January 10)
Un Oso Rojo (January 10)
The Ladykillers (January 12)
The Testimony (January 14)
Moonwalkers (January 15)
The Overnight (January 15)
Hyde Park on Hudson (January 16)
Curve (January 19)
Drone (January 20)
Turbo Kid (January 25)
Frozen Planet (January 28)
Frozen Planet: On Thin Ice (January 28)
Frozen Planet: The Epic Journey (January 28)
The Making of Frozen Planet (January 28)
Words and Pictures (January 31)
Television Shows
The Celebrity Plastic Surgeons of Beverly Hills — Season 1 (January 1)
Forensic Files — Collection 2 (January 1)
Friday Night Tykes — Season 1 & 2 (January 1)
Stewart Lee's Comedy Vehicle — Season 3 (January 1)
Under Arrest — Season 1: "Put Some Clothes On" (January 1)
I'll Have What Phil's Having — Season 1 (January 2)
It's Always Sunny in Philadelphia — Season 10 (January 5)
Occupied (January 15)
Sirens — Season 2 (January 15)
Z Nation — Season 2 (January 17)
When Calls the Heart — Season 2 (January 21)
From Dusk Till Dawn — Season 2 (January 25)
Children's Content
American Girl: Grace Stirs Up Success (January 1)
Angry Birds Toons — Season 1 (January 1)
Nany McPhee (January 1)
Pooh's Heffalump Movie (January 1)
The Tale of Despereaux (January 1)
Sofia the First — Season 2 (January 2)
Dragons: Race to the Edge —Season 2 (January 8)
Littlest Pet Shop — Season 4 (January 11)
Ever After High: Dragon Games (January 29)
Images: Lucky Monkey Pictures