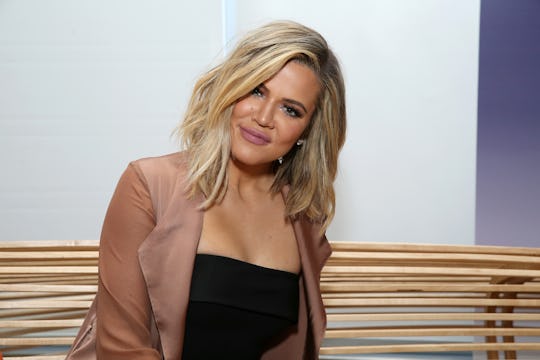 Cindy Ord/Getty Images Entertainment/Getty Images
Here's Everything Khloe Kardashian Has Said About Wanting To Be A Mom
Just when you thought that you could never get enough news about possible Kardashian babies, there are now rumors that Khloé Kardashian might be pregnant with boyfriend Tristan Thompson. It's not like Kardashian has been shy about her romance with the Cleveland Cavaliers center or their plans together. In fact, everything Khloé Kardashian has said about being a mom sort of shows just how ready she is to start a family of her own.
Romper has reached out to Kardashian's representatives for comment, but has not heard back at this time, so the pregnancy is not confirmed yet. But it wouldn't be such a bad thing. Especially since the 32-year-old was talking about becoming a mom just as Season 13 of Keeping Up With The Kardashians came to a close last summer.
Khloé visited a fertility clinic with her sister Kim Kardashian to see if she could be a surrogate. (For whatever reason, that ended up not working out.) But she was also super vocal about her and Thompson's plans for the future. Just this month, she told Us Weekly that she had never been so in love with someone.
Khloé also said, according to Entertainment Tonight, that they were thinking about it. "He wants to have, like, five or six kids with me, and that's lovely. We could start at one and then grow from there. But now, knowing I'm not on birth control, it's really scary. It's like a really big step."
So this might be really exciting news for Khloé, obviously. And here are just a few reasons why she'd be a great mom and what she's said on the subject.
She Gets That It's A Commitment
Khloé already loves watching Tristan parent his 9-year-old son Prince, whom she shares with ex-girlfriend Jordan Craig. She told Mail on Sunday's You magazine in August 2017:
Tristan is a great dad and he definitely wants more children, but we both feel that it will happen when the time is right. We're still in a new relationship and I love us having time together. Once you have kids, you can't get back your non-kid years.
She Really Loves To Play
Of course, being a mom doesn't mean you have to plan activities all the time, but it really does help. At least Khloé has the kitchen for it. The Good American designer told People earlier this year:
I absolutely adore baking with my nieces and nephews. It's super fun, and I love baking by myself, so what I like to do is have a cabinet for my baking essentials.
She Already Adores Her Aunt Status
Obviously, Khloé has had a ton of practice playing with Kim and Kourtney's kids. And she seems to get that being an aunt will have to "translate" to being a mom, since it's never all fun and games. If only, right? She told Us Weekly in 2015:
I'm a really fun aunt, so I hope I'm going to be a fun mom! I like to have fun and be silly and not take myself too seriously with the kids, so I hope that will translate when I actually have my own.
She's Rightfully Nervous AF
Becoming a mom is scary, even when you know you have a partner to tackle it with. She said in the same August 2017 Mail on Sunday's You interview:
You worry about your children for the rest of your life. The concern I have is raising little human beings in a world that's filled with such hate and terror.
It's Been On Her Mind
Khloé comes from a huge family, so it makes sense that she and her sisters would each want one for themselves. She said all the way back in 2014 in an interview with Cosmopolitan:
I love kids. I hope and pray I have kids when the time is right.
She'll Definitely Still Keep Working
Khloé said in June that her beau, Tristan, was all about her keeping her career and being a mom. According to Entertainment Tonight, Khloé said on KUWTK last season:
He's like, "I wanna have kids with you and then if you get pregnant you could make maternity jeans for Good American." He's so f**king cute and supportive and sweet. I've just never had … he's just such a nice, nice person.
With only her own words to go by, it sounds like Khloé is ready and willing to start a family. Whenever the time is right, of course.
Watch Romper's new video series, Romper's Doula Diaries:
Check out the entire Romper's Doula Diaries series and other videos on Facebook and the Bustle app across Apple TV, Roku, and Amazon Fire TV.