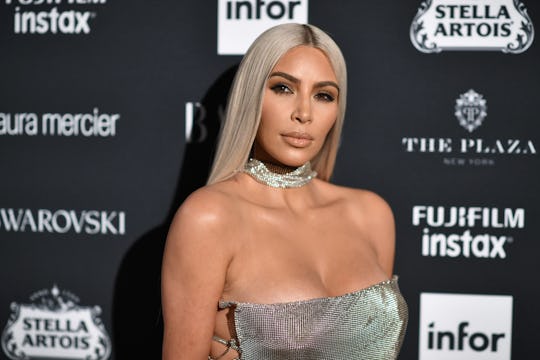 Dimitrios Kambouris/Getty Images Entertainment/Getty Images
Here's *Everything* Kim Kardashian Has Said About Her Sisters' Rumored Pregnancies
At the end of September, Kim Kardashian confirmed she and Kanye West are expecting their third chid via surrogate. The reality star and fashion guru has since spoken candidly about how difficult the surrogacy process can be at times, as well as how the family is preparing for baby number three. However, when it comes to addressing the rumors about her sisters, Khloé Kardashian and Kylie Jenner? Her lips are sealed. Or mostly, at least. In fact, everything Kim Kardashian has said about her sisters' rumored pregnancies has been frustratingly cryptic.
Kardashian went so far as to prove she would rather drink a sardine smoothie than discuss the alleged buns in Khloé's and Kylie's "ovens." The Crystal Gardenia creator recently appeared on The Late Late Show with James Corden, where she participated in a disgusting version of truth or dare with the talkshow host. (It's called "Spill Your Guts or Fill You Guts." Enough said.) "Kim, there have been lots of rumors about your sisters Khloé and Kylie being pregnant," Corden said to Kardashian. "Are they true, yes or no?" After looking down and smiling for a few seconds, the reality star accepted her fate, grabbed the glass and took a big gulp. Guys, she loves her sisters that much.
Kardashian also appeared on The Ellen DeGeneres Show, where she shared about how her family is preparing for baby number three. During their conversation, DeGeneres brought up the recent Karla Kardashian skit she did with Kendall Jenner and Kourtney Kardashian on Halloween, where "Karla" started rumors that they were pregnant. (Obviously, DeGeneres was making fun of the family's alleged baby boom.) "And then I said that they were both pregnant, but then they told me they weren't," DeGeneres told Kardashian, before seamlessly transitioning to the real question. "But you do have several sisters that are pregnant ..."
*Crickets chirping*
"Okay, I'm gonna break it down. This is how we work in the family," Kardashian replied, after an eternity. She continued:
When there are lots of rumors, we have these family group chats. And we threaten each others' lives if we speak for the other one. So, for the safety of my life ... we just decided there's so much that goes on, that we respect each others' right to speak for themselves. So I will speak about myself and hopefully they can come on and address whatever rumors you might have.
Although Kardashian accidentally spilled the beans about the sex of her third child, she doesn't seem to be budging when it comes to her sisters' pregnancy rumors. That still hasn't stopped the rumor mill. At the end of September, a close family insider told People that Kim is happy about pregnancy trifecta. "There is no jealousy here," the source said. "No one is worried about anyone stealing their thunder. It's not dramatic like that." The source continued:
Kim is really into the idea of a bunch of babies being born around the same time. She think they'll be more like sisters than cousins. Everyone in the family is just thrilled about the whole thing.
Amid the rumors flying left and right, Kardashian took to Twitter to set the record straight about these so-called inside sources, reports Huffington Post. On Sept. 27, she wrote, "Let me just say this ... People who supposedly work with us 'confirming' details they knew nothing about! Especially when we havent[sic] even communicated with them. SMH."
Kardashian also spoke up on Sept. 26, sharing what she considered a "fake story" about her family on Twitter. "And speaking of fake stories," Kim wrote. "The media is super shady for posting fake quotes from Caitlyn when she hasn't spoke to anyone."
Some dedicated Kardashian fans have argued that a cryptic Instagram post from Sept. 3 hinted at the pregnancy trifecta well before rumors began. (Honestly though, this might be reaching a bit.) In the post, Kardashian shared a throwback shot of herself, Khloé and Kylie from a family trip to Costa Rica, reports The Sun. simply with. She wrote simply, "The 3 of us ..." And multiple followers finished the open-ended sentence with, "are pregnant."
Say what you want about the Kardashian sisters, but I, for one, admire the fact that none of them have commented on any of the pregnancy rumors so far. Sure, they may be overexposed. And they might come off has spoiled, rich girls. But it's pretty hard to deny their love for each other — and for their dedication to family.
Check out Romper's new video series, Romper's Doula Diaries:
Watch full episodes of Romper's Doula Diaries on Facebook Watch.