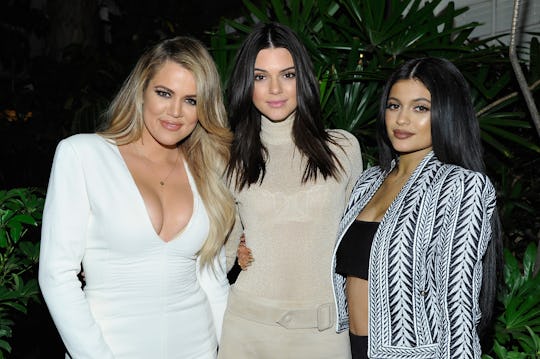 John Sciulli/Getty Images Entertainment/Getty Images
Here's Everything Kylie Jenner's Sisters Have Said About Her Pregnancy Rumors
Kylie Jenner's rumored pregnancy has been a huge topic of conversation since it was first reported in September that she was expecting her first child with boyfriend, Travis Scott. While fans can't stop wondering about her pregnancy and looking for clues in everything they find, Kylie's siblings are a little different. Her super famous sisters are being a little more tight-lipped than fans would've hope for and everything Kylie's sisters have said about her rumored pregnancy is, honestly, a little frustrating.
When you're as famous as Kylie Jenner, you would expect for people to be talking about you — but maybe not this much. Trust me when I say that people can't stop talking about every aspect of her rumored pregnancy, especially since Kylie has been too absent from social media and on her family's show, Keeping Up With The Kardashians. The makeup mogul who once loved taking selfies of herself has now gone selfie-less. Fans are starting to wonder that if Kylie really wasn't pregnant, then wouldn't she have stepped out in the public eye by now?
Thankfully, fans have all of Kylie's sisters to make up for her absence. Kourtney, Kim, Khloé Kardashian, and Kendall Jenner have not been as camera shy as Kylie, but they're still just as silent as she is. You might be disappointed with their lack of comments about her pregnancy, but at least they're saying something, right? Here's what they've said so far:
Khloé Kardashian
Around the same time that it was reported that Kylie was expecting her first child, people started speculating that her older sister Khloé was pregnant, too — and they were right. In December Khloé announced that she's expecting her first child with boyfriend, Tristan Thompson, which made people think that Kylie would soon follow suit and announce her rumored pregnancy, too. She didn't (and still hasn't). But after announcing her own pregnancy, Khloé became more talkative, which also meant talking about Kylie's pregnancy.
During an appearance on The Ellen Show, Khloé was asked about Kylie's pregnancy rumors from the show's host, Ellen DeGeneres. Khloé played aloof, telling DeGeneres to call Kylie so she could ask her about her pregnancy herself (and, well, leave Khloé alone). Khloé said in reference to Kylie's pregnancy, according to Us Weekly:
What do you mean? I don't know what you're talking about. Come on, Ellen.
While she didn't say that Kylie is expecting, she didn't shut Ellen down either. But if you're big on assumptions, you could say that Khloé said a lot in this answer.
Kim Kardashian
Kim Kardashian is expecting a child, too, through a surrogate. In September, Kim confirmed that she and Kanye West are expecting their third child together (cue the excitement). But in the same month, shortly after the rumors about Kylie's pregnancy began, people were speculating about how Kylie's siblings reacted to her news. Shortly after this happened, Kim was forced to break her silence about Kylie's pregnancy rumors after one story got her reaction wrong. Kim took to twitter, according to E! News, where she called the story "very fake." But it is also possible that she could have been calling the news of Kylie's rumored pregnancy fake, too.
In November, during her own appearance on The Ellen Show, Kim didn't deny or confirm the rumors about Kylie's pregnancy, either. Kim said, according to Glamour:
This is how we work in the family. When there are lots of rumors, we have these family group chats, and we threaten each other's lives if we speak for the other one, so for the safety of my life...We just decided there's so much going on that we respect each other's right to speak for ourselves. So I will speak about myself, and hopefully, they can come on and address whatever rumors you might have.
That's pretty much everything that people will ever get from Kim, especially since she drank a sardine smoothie on The Late Late Show with James Corden to avoid talking about Kylie's pregnancy. That's loyalty.
Kourtney Kardashian
Kylie's oldest sister and mom of three, Kourtney, hasn't said too much about her sister's pregnancy rumors. But, she has made a joke about it, which is basically the same thing. On New Year's Eve, Kourtney Kardashian posted a family photo of herself and all of her sister's to Instagram, but Kylie was absent from the photo (of course). Kourtney joked in the photo's caption, writing:
When you can't find the rest of the family photo...
People assumed that the rest of the family photo (ahem Kylie) was missing because of her reported pregnancy. Jokes are telling, too, right?
Kendall Jenner
Kendall, who is the closest to Kylie in age, has been the most quiet about her sister's rumored pregnancy. Instead, she has been focusing her attention on denying her own pregnancy rumors, which sprouted in December. If only Kylie would do the same. During an October appearance on The Ellen Show, Kendall and Kourtney also refused to say anything about their sister's pregnancy, according to Too Fab. Because if there is any place to deny your famous sister's pregnancy, it seems like The Ellen Show is the place to do it.
Bonus: Kris Jenner
OK, so Kris Jenner is the mother to all of these ladies — but let's be real, she can easily be mistaken for a Kardashian-Jenner sibling, too. Since September, Kris has continued to state that Kylie would not be saying anything about her pregnancy rumors. The day after Kylie's pregnancy was first reported, Kris had some choice words for The Cut:
She's not confirmed anything. I think it's kind of wild that everyone is just assuming that that's just happening. Something happens every single day. You never know what is going to break at any moment.
There you have it. Kylie's siblings aren't denying anything, but they're not confirming anything either. And to some people, this silence and tendency to avoid the topic speaks louder than anything.
Check out Romper's new video series, Romper's Doula Diaries:
Watch full episodes of Romper's Doula Diaries on Facebook Watch.