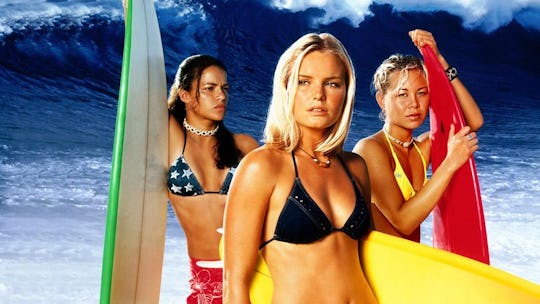 Here's Everything Leaving Netflix In February, So Stream Your Sweet Goodbyes STAT
The Netflix giveth, and the Netflix taketh away. Each month, the streaming service adds a multitude of new titles to its lineup, but it also forces us to say goodbye to movies and television shows that will no longer be available. Here's everything leaving Netflix in February, leaving holes in our binge-watching hearts.
From legendary films, to fascinating documentaries, to cult-classic TV shows, there are a lot of awesome titles bidding Netflix adieu next month. But the good news is, there's still time to watch them! Well, maybe not all of them (although kudos to you if you can pull that off). A lot are leaving in the first week of February, so get streaming! There are some, however, that won't be going away until the end of the month, so make sure you prioritize your watch list by what's leaving when.
And don't fret too much — because I promise you won't run out of things to stream. With all of the incredible titles coming to Netflix this month, you probably won't even notice the absence of what's leaving.
But if there are things you really want to see, find out if they're saying sionara to streaming. And if they are, use these last cold days of January to catch up on all of the movies you've been meaning to watch that will no longer be on Netflix come February, instead of watching Friends's eight season again (as I usually do). Below I've compiled a list of everything I want to watch before it's too late, followed by the complete lineup of what's leaving.
Rain Man
Chances are you've already seen this film, but it's always worth another watch. Stay in with a bottle of wine and a box of tissues one night before Rain Man leaves Netflix on Feb. 1.
Blue Crush
Nothing beats the winter blues like blue waters. Watch this sufer chick movie and transport yourself to happier, summer days before Feb. 1.
Side By Side
This fascinating documentary discusses the world of filmmaking, and the impact of digital technology on the industry. You'll get insight from greats like Martin Scorsese and James Cameron; plus it's narrated by Keanu Reeves, which is awesome. Leaving Netflix on Feb. 19.
Ray
Jamie Foxx won the Academy Award for Best Actor for his portrayal of legendary musician, Ray Charles. This biopic is moving, inspiring and tells the story of one of the world's most important artists. Watch before it leaves on Feb. 1.
Sabrina, The Animated Series, Seasons 1 & 2
I've always been a big fan of Sabrina, whether it was Melissa Joan Heart or a cartoon character. Binge this cute series with your kids on a snow day before it leaves Netflix on Feb. 28.
The Hurt Locker
This Academy Award-winning movie is not only compelling, but director Kathryn Bigelow is the only woman to have ever won the Best Directing Oscar for her work on this film. You should definitely watch this movie to support an amazing woman before it leaves Netflix on Feb. 1.
Gifted Hands
This movie is based on a true story, and is incredibly inspiring. It stars Cuba Gooding Jr. as a boy who, against all odds, goes on to become a neurosurgeon. Watch this heartwarming movie before you lose the opportunity on Feb. 1.
Big Fish
This Tim Burton movie made a big splash when it came out in 2003, and continues to have quite a legacy. It's a beautiful tale about your relationship with your parents and the art of storytelling. It leaves Netflix on Feb. 1, so watch it soon!
Classic Doctor Who, Collections 1-18
Ok, so 18 collections is a lot to watch before they leave Netflix on Feb. 1, but for any diehard Whovian out there, knowing this departure date is essential. And if you're not a Doctor Who super fan, it's worth watching an episode or two to see what this cult classic is all about.
Here's the complete list of what will be leaving Netflix in February:
Movies
Asylum (Feb. 1)
Bad Santa (Feb. 1)
Benny and Joon (Feb. 1)
Big Fish (Feb. 1)
Blue Crush (Feb. 1)
Crocodile Dundee 2 (Feb. 1)
The Dancer Upstairs (Feb. 1)
Daylight (Feb. 1)
The Firm (Feb. 1)
Fletch (Feb. 1)
Gifted Hands (Feb. 1)
Gothika (Feb. 1)
The Hurt Locker (Feb. 1)
The Naked Gun (Feb. 1)
Naked Gun 33 1/3: The Final Insult (Feb. 1)
Rain Man (Feb. 1)
Ray (Feb. 1)
Sorority Row (Feb. 1)
The Terminator (Feb. 1)
Terms of Endearment (Feb. 1)
Bottle Shock (Feb. 3)
Compliance (Feb. 7)
Jack & Diane (Feb. 7)
United 93 (Feb. 11)
Were the World Mine (Feb. 11)
The Fourth Kind (Feb. 13)
Violet & Daisy (Feb. 17)
North Sea Texas (Feb. 19)
Problem Child: Leslie Jones (Feb. 19)
Side by Side (Feb. 19)
Jesus Camp (Feb. 21)
Nobody Walks (Feb. 21)
Universal Soldier: Day of Reckoning (Feb. 21)
Crooked Arrows (Feb. 27)
Halloween: Resurrection (Feb. 27)
The Sea Inside (Feb. 28)
Television
Classic Doctor Who, Collections 1-18 (Feb. 1)
Doctor Who, Season 1-8 (Feb. 1)
Secrets and Lies (Feb. 1)
Bridezillas, Season 10 (Feb. 11)
Stephen King's Bag of Bones (Feb. 11)
The Pitch, Season 2 (Feb. 16)
Marriage Boot Camp: Bridezillas (Feb. 21)
Chicagoland, Season 1 (Feb. 24)
Death Row Stories, Season 1 (Feb. 24)
The Guild, Season 1 (Feb. 25)
Kids
Alvin and the Chipmunks Meet Frankenstein (Feb. 1)
Pokémon the Movie: Black & White: BW Adventures in Unova and Beyond (Feb. 2)
Pokémon the Movie: Black: Victini and Reshiram (Feb. 2)
Pokémon the Movie: Genesect and the Legend Awakened (Feb. 2)
Pokémon the Movie: Kyurem vs. The Sword of Justice (Feb. 2)
Pokémon the Movie: White: Victini and Zekrom (Feb. 2)
Pokémon the Movie: Black & White, Seasons 1 & 2 (Feb. 2)
Pokémon the Movie: Indigo League, Season 2 (Feb. 2)
Kitten Party (Feb. 15)
Sabrina, The Animated Series, Season 1 & 2 (Feb. 28)
Sonic the Hedgehog, The Complete Series (Feb. 28)
Images: Universal Pictures