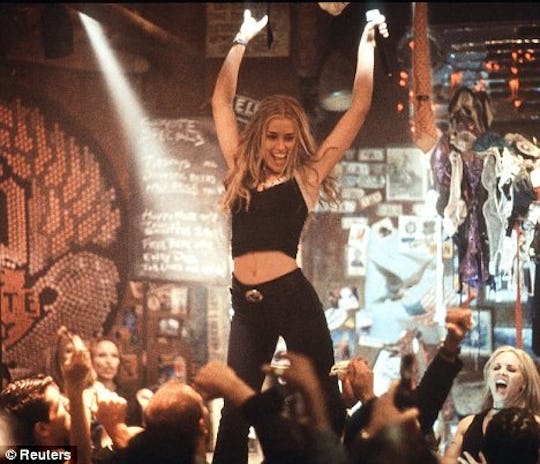 Here's Everything Leaving Netflix In January, So Start Streaming STAT
Netflix titles are kind of like a beautiful sunset: they grace us with their presence for a short time and then, eventually, they have to leave us. But the streaming service is kind enough to give viewers warning, releasing a list of the TV shows and movies leaving Netflix in January, so that you can savor their last moments of availability.
Unfortunately, subscribers will have to say goodbye to a lot of classics as they come into the new year. And many of these are departing on January 1, so there's not much time. The good news, however, is that it's the holidays, which means plenty of time to plant yourself on the couch with a cup of cocoa and leftover cookies and binge on all of these movies and TV shows that will no longer be at our fingertips come 2016.
There are 78 titles being removed from Netflix in January, which is a lot of TV watching, even for the most committed binger. The secret to winning the last week of December is to go through the list, and make a hierarchy of must-watch, would-like-to-watch and will-watch-if-I-get-around-to-it. I've combed through the list, and picked my top ten titles to watch before the end of the year, and hopefully my selections will inspire you!
Here are my choices, followed by the full list so you can create your own streaming schedule for the rest of the month.
Almost Famous
Step into the sexy, gritty world of '70s rock-and-roll stars and watch as a young boy comes of age amidst this edgy atmosphere. Not only is Almost Famous a great story and an entertaining watch, it's also Kate Hudson's breakout role as the young, enchanted Penny Lane, so make sure you watch it before it leaves Netflix on January 1.
Rocky
This classic is so embedded in pop culture, it's basically a mandatory watch. But hurry up and start streaming, the entire franchise leaves Netflix on January 1. That's five movies to see, so you better hurry.
Harriet The Spy
What '90s girl didn't love Harriet the Spy? Relive the Nickelodeon glory days and watch an old favorite that'll transport you right back to your childhood. Make sure to watch before the first of the year, though, when this movie says goodbye to Netflix.
Zoolander
With Zoolander 2 coming out in February, it's probably a good idea to brush up on the original. Practice your Blue Steel, grab some friends and have a walk-off, consider opening a center for kids who can't read good, and binge on this classic comedy before it departs Netflix on the first.
Dance Moms, Seasons 1-5
Dance Moms is my ultimate guilty pleasure show. Maybe it's because I used to be a dancer, maybe it's because I think Maddie is a superstar, or maybe (and most likely) I just like watching Abby lose her temper. All five seasons are leaving on January 14, so I've got some serious binging to do before Season 6 premiers on January 5.
Lawrence of Arabia
This movie is up there with Citizen Kane and The Wizard of Oz when it comes to cinematic classics, so I feel it's basically an obligation to watch Lawrence of Arabia. It's worth streaming before it leaves Netflix on January 1.
Coyote Ugly
Coyote Ugly is easily one of the most underrated chick flicks. It is so good — you've got dancing on bars, a snazzy original song, and John Goodman as the father — so indulge yourself and stream it before January 1.
The Rescuers
Disney princess and Pixar movies tend to get all of the attention when it comes to childhood classics, but The Rescuers is one of the cutest animated movies out there. Watch tiny Bernard and Miss Bianca work together to save Penny from the evil Madame Medusa before it leaves Netflix on January 1.
The Graduate
Another cinematic staple, The Graduate is one of those movies people are always referencing (especially when they want to sound cultured). Be able to engage in conversations that quote "Mrs. Robinson, are you trying to seduce me?" by watching the film before it says sionara to streaming on January 1.
The Kennedys, Season 1
The Kennedy's have some serious family history — and one that is part of all of our collective history as Americans. In this exciting miniseries, you'll learn more about the iconic political family's intimate personal stories. Stream before January 14.
Jerry Maguire
This is one of the best rom coms of all time, and one that you can definitely get your guy to watch with you (and enjoy) since it also deals with sports. And the kid is so darn cute! This movie has me at hello, and I'll watch it again and again, and I'll be sure to watch it another time before it leaves Netflix on January 1.
Here's everything else you have to say goodbye to this month:
Leaving January 1:
A Clockwork Orange
American Psycho
American Psycho 2
The Bourne Identity
The Bourne Supremacy
Charlie and the Chocolate Factory
Coach Carter
Conan the Barbarian
Corpse Bride
Criminal Minds: Suspect Behavior, Season 1
Four Brothers
Gladiator
Grandma's Boy
Heartbreakers
The Hours
The Italian Job
Jackass: The Movie
Lara Croft: Tomb Raider
Lara Croft Tomb Raider: The Cradle of Lide
The Longest Yard
The Machinist
Max Steel, Seasons 1-2
Million Dollar Baby
Mission: Impossible
Mission: Impossible II
The Patriot
Planes, Trains and Automobiles
Rambo: First Blood
Rambo: First Blood Part II
Rambo III: Ultimate Edition
Risky Business
Rosemary's Baby
Serpico
Sesame Street: Animals and Nature, Season 1
Sesame Street: Classics, Vol. 1-2
Sesame Street: Cookie and Friends, Season 1
Sesame Street: Creativity and Imagination, Season 1
Sesame Street: Elmo and Friends, Season 1
Sesame Street: Everyday Moments, Season 1
Sesame Street: Music and Dance, Season 1
Sesame Street: Numbers and Letters, Season 1
The Sum of All Fears
There Will Be Blood
Trading Places
Trekkies
The Virgin Suicides
Leaving January 4:
Dumbo
James and the Giant Peach
Pocahontas
The Aristocats
The Fox and the Hound
The Great Mouse Detective
The Nightmare Before Christmas
The Resucers Down Under
The Tigger Movie
Leaving January 8:
The Lying Game, Season 2
Leaving January 14:
Bad Ink, Season 1
Beyond Scared Straight!, Seasons 4-5
Duck Dynasty, Collection
Hoarders, Collection
Intervention, Collection
Storage Wars, Collection
Images: Touchstone Pictures