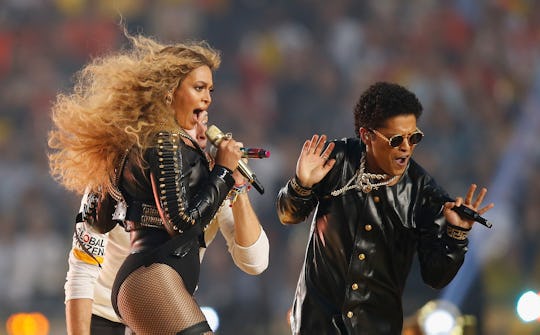 Ezra Shaw/Getty Images Sport/Getty Images
Here's Everything We Know About Beyonce's Formation Film & New Album
Beyoncé is fond of secrets and surprises. She released "Formation" with no warning, and it seemed like the world reeled for weeks afterward. That groundbreaking song and video are only the first taste of things to come. It's rumored by fans and collaborators that she's set to release her sixth studio album this April. There's also been some talk that Beyoncé will release a short film to go along with it. Fans are scouring the Internet for clues about her next big project, but, in typical Bey fashion, she's not giving anything up. Here's everything we know about Beyoncé's Formation film and new album.
First, the basics. The album will be released in April before her massive Formation World Tour. That tour will start in Miami on April 27 and will focus on promoting the songs on her new album. Her diehard fan club, The BeyHive, tweeted its prediction that the Formation World Tour will be "aggressively political & controversial," and the timbre of the incredible "Formation" video and controversial Super Bowl performance certainly backs that up. All signs are pointing to an unannounced, unapologetically powerful performance, both on the album and in the video. Perhaps you remember how she orchestrated the release of Beyoncé? The album and it's corresponding film, made up of individual music videos for each track and a documentary, all appeared on iTunes one day without so much as a "coming soon." That's just her style, and why not? For fans, it's a welcome surprise.
What else do we know? We know that fans will probably have to pay for some part of it, at some point, just as fans had to pay to access the films that went along with Beyoncé. We also know that she's married to Jay Z, who owns the streaming service, Tidal. Most likely, this album will be available, at least for some period, exclusively on that platform. "Formation" was first released on Tidal, so it seems very likely the rest of the songs will follow. For fans, this means signing up or re-upping their membership before April rolls around because, really, you never know when this thing's going to happen.
As for the what's on the album, fans have sleuthed out some answers there, too. A handful of artists have hinted at collaborations with Beyoncé for her sixth album. D.R.A.M. posted a telling Instagram photo with Beyoncé in July. Future, Sia, Bone Thugs N' Harmony, and Mike Will-Made It have said they've been collaborating in the studio for this project. Fans may not know exactly what's in store, but with that team, the magic of Beyoncé, and the wizards behind the "Formation" video hard at work, it's going to be good.