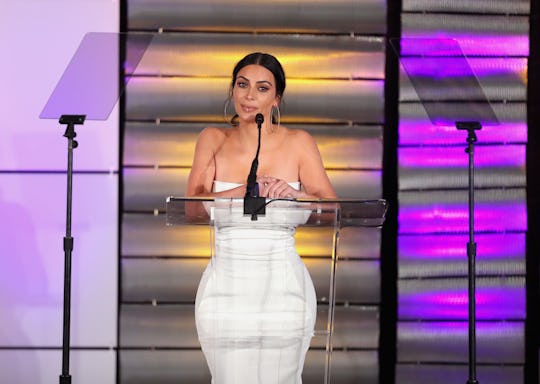 Rich Polk/Getty Images Entertainment/Getty Images
Everything We Know About Kim Kardashian's Surrogate
Here's the deal: technically, we don't know for sure that Kim Kardashian and her husband, Kanye West, have hired a gestational surrogate to carry their third child. But unofficially, here's everything we know about Kim Kardashian's surrogate so far: The rumor that the Wests hired a surrogate originated with TMZ in June, and although they've yet to confirm the story, there's strong evidence that it's true: hours later, E! News reported that "multiple sources" confirmed the story. Since Keeping Up With the Kardashians is on E!, it seems unlikely the network would risk alienating their biggest star with libel. Romper's request for comment has not been returned.
TMZ's report claimed that the unidentified woman has agreed to abstain from smoking, drinking, drugs, hot tubs, saunas, coloring her hair, eating raw fish, and scooping kitty litter. She's also limited to one caffeinated drink a day. This isn't some crazy celebrity contract, though; those are all pretty standard guidelines for any pregnant woman (although the hair bit might be a tad overly cautious). It's no secret that Kardashian had been considering surrogacy; she spoke candidly about it during the most recent season of her reality show, even floating the idea of a new sibling by her oldest child, North.
TMZ also claimed that the surrogate would be paid $45,000 in 10 monthly installments, plus a $5,000 bonus for each additional baby, in the event of multiples. This is pretty standard pay; multiple surrogacy agencies in Kardashian's area offer base fees between $30,000 and $50,000, plus medical expenses and multiple baby bonuses, and experienced surrogates are offered higher compensation than first-timers. According to Us Weekly, the woman Kardashian chose, a San Diego mom in her late twenties, has been a surrogate before, and even appeared in a promotional video for the agency. The magazine also reported that she's three months along, meaning the latest Kardashian would be due in late January 2018.
After that, the details get pretty suspect. The Hollywood Gossip has claimed that the surrogate is "being pampered" and has her own security team (sure!) but also adds that she's pregnant with twins, and that there are rules in place regarding her sex life (huh?). Radar Online alleges that a "family friend" says the couple has already spent "well over $200,000" on the surrogate, including agency fees and "perks," but since Kardashian alone is worth $45.5 million, that doesn't seem like such a hardship. If there really is a surrogate, and she's actually in her second trimester, Kardashian may soon share the news herself; in June 2015, after surrogacy rumors surfaced during her pregnancy to Saint, the star tweeted, "If I got a surrogate I would say I did!" And two months later, she tweeted again, "[You] know me well enough [to] know I would document the process if I got a surrogate."
KUWTK Season 14 should be a good one.