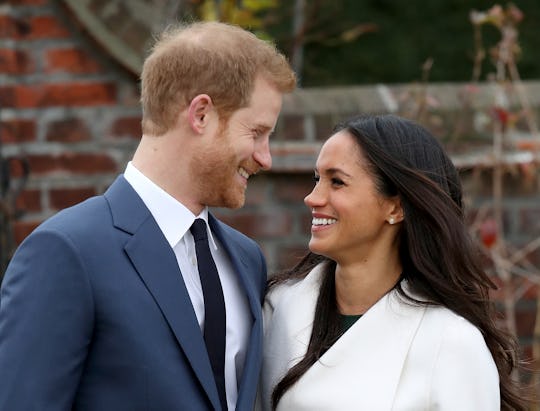 Chris Jackson/Getty Images Entertainment/Getty Images
Prince Harry & Meghan Markle's Wedding Is Right Around The Corner — Here's Everything We Know
It's so easy to get totally wrapped up and lost in a romantic fairy tale, whether it's fiction or happening IRL. Like with American actress Meghan Markle, who is actually living out a modern day fairy tale now that she's engaged to Prince Harry. And in just a month, she'll get her happily ever after and become a member of the royal family. With so much excitement in the air right now, this upcoming royal wedding is worth obsessing over. Luckily, for those inquisitive minds, there is plenty to know about Prince Harry and Meghan Markle's wedding (which will be here before you know it).
In November, Markle and Prince Harry announced that they were engaged and people could not have been more excited for them. After that, the countdown to their nuptials began and as more have details emerged, the excitement has grown. Luckily, people won't have to wait around for too much longer to see this wedding all come together — there is a little over a month left until the big day arrives.
Until then, people can take assurance in the known details about their wedding, knowing that the final product is going to be a stunning and spectacular event that people from across the world wish they could at themselves.
The Date
The hottest royal wedding of the year will be held on Saturday, May 19, according to People — which was confirmed by their understated wedding invitations sent out a few weeks ago.
Although people in the United Kingdom won't be getting a bank holiday (aka a day off of work) due to the wedding's weekend timing, the wedding will be televised, according to Town & Country, so they can feel like both a guest of honor and get in on all of the very exciting action.
The Location
The royal wedding isn't the time or occasion to have your average wedding venue. Instead, the wedding will be held in three separate locations, according to Fox News. The wedding service (aka when Markle and Prince Harry exchange their vows) will be held in St. George's Chapel in Windsor Castle, according to People, in Prince Harry's hometown of London, England (where else?). After the service, there will be a luncheon at St. George's Hall in Windsor Chapel, held by the Queen, according to People. And finally, to round out the evening, according to People, a smaller, intimate, and private reception will be held at Frogmore House on the castle grounds.
The Guests
Of course, the queen will be attending, as well as Prince Harry's dad, Prince Charles, his brother, Prince William, and his wife (who will have just given birth a month earlier), Kate Middleton, according to The Sun. While nothing has been confirmed just yet, there are a lot of hopes that Markle's major celebrity friends will turn out in attendance. Some people believe that people — from tennis player Serena Williams to President Barack Obama — could show up, according to Harper's Bazaar, (but that's one major detail that people will have to wait to find out about). Although people off the street can't be an official wedding guest, as previously stated, they can have a viewing party at home, which is almost the same thing.
The Dress
While getting an early glimpse at Markle's dress might be harder than trying to get into your friend's password protected iPhone (those darn finger prints), some people believe they have a pretty clear idea as to what her dress might look like ahead of the big day. Markle has reportedly found her wedding dress (I'd be worried if she hadn't this late in the wedding planning phase) and it is very possible that she picked a British designer to design her dress, according to Town & Country. Some people believe to have narrowed down her dress designer to the brand Erdem or Ralph & Russo, according to Page Six. But that is definitely one detail that will not be released until the day of the wedding.
As for the style of the dress, Markle did state in a previous interview that she loved "classic and simple" wedding dresses with "a modern twist," according to Town & Country. So it's likely that her dress will incorporate those elements.
The Food
If there is going to be two receptions that means that there has to be pretty good food, right? It is a possbility that Markle and Prince Harry will dine on American comfort foods like grilled cheese and hot dogs, according to INSIDER. But at the same time, it is also possible that Markle and Prince Harry will have to honor a few royal wedding food traditions, but it is certain that they (along with their guests) will love their wedding cake.
Ahead of the wedding, Kensington Palace announced on Instagram last month that Prince Harry and Markle would share a lemon elderflower cake covered in buttercream with their guests that incorporates "the fresh flowers of spring." Sounds delicious.
The Flowers
As per an announcement on Kensington Palace's Instagram account, Prince Harry and Markle have chosen floral designer, Philippa Craddock to create the floral arrangements for the ceremony at St. George's Chapel. While the flowers will provide a colorful touch to wedding and give personality to the church, the flowers are also reflective of Markle and Prince Harry's love of giving back. In addition to their flower arrangements, according to the announcement, pollinator friendly plants will be incorporated into their floral theme, providing a habitat for bees and contributing to sustain a healthy ecosystem.
But don't expect to find mason jars and burlap at this wedding. It's a royal wedding after all, and there is so much tradition and protocol associated with it that makes it just a little bit different from the weddings in the United States that Markle is used to attending. Royal watchers won't have a completely clear vision of how Markle and Prince Harry's wedding will look until it actually happens on May 19 and fortunately, it's just around the corner.
Check out Romper's new video series, Bearing The Motherload, where disagreeing parents from different sides of an issue sit down with a mediator and talk about how to support (and not judge) each other's parenting perspectives. New episodes air Mondays on Facebook.