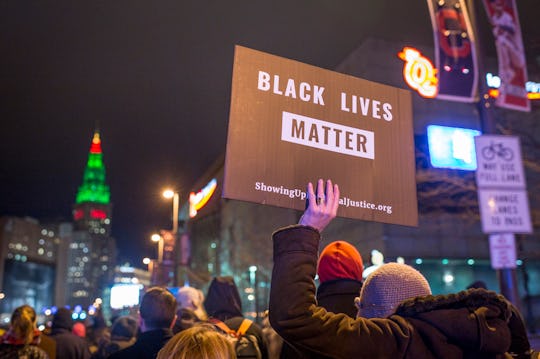 Angelo Merendino/Getty Images News/Getty Images
Here's Everything You Need To Know About The Alton Sterling Case
Baton Rouge, Louisiana, is the site of the latest high-profile shooting of a black man at the hands of police officers. Here's everything you need to know about the Anton Sterling shooting: according to the Baton Rouge Police Department, early Tuesday morning, an anonymous caller reported being threatened with a gun by a man in a red shirt who was selling CDs outside of the Triple S Food Mart. Officers responded to the scene, and an "altercation" ensued, according to a statement on the Baton Rouge Police Department's Facebook page. Sterling ended up being shot dead, and the officers were placed on administrative leave "per standard procedure."
Graphic bystander video has been circulating online. In the video, a police officer tackles a man in a red shirt, presumed to be Sterling, and then two officers can be seen pinning the man down on the ground. A voice shouts, "He's got a gun," and the second officer draws his weapon and points it at the man's chest. Two gunshots can be heard as the camera cuts away. There are at least two more shots as witnesses shout and cry in the background. East Baton Rouge Coroner Dr. William Clark confirmed to NBC News that Sterling died from multiple gunshot wounds to the chest and back. There are unconfirmed reports that Sterling was shot as many as seven times.
A crowd of over 200 protesters gathered at the scene of the shooting on Tuesday night, according to The New York Times, alternately chanting "Black lives matter" and "Hands up, don't shoot." Edmond Jordan, the Sterling family's attorney, said on CNN that "The city has to give some good answers." Louisiana State Rep. Ted James released a statement saying that the shooting "has made me question what it really means to be land of the free and home of the brave." Congressman Cedric Richmond called the video footage "deeply troubling" and that he "join[s] the community in the pursuit of justice."
Police have not confirmed whether Sterling had a gun, but local CBS affiliate WAFB reported that Abdul Muflahi, who owns the convenience store, claims that he saw the police officers pull a gun out of Sterling's pocket after the shooting. The family's attorney said that Sterling's relatives "were not aware that he had a gun." State Rep. C. Denise Marcelle said that police had recovered surveillance footage from the store's cameras, as well as a dashboard camera. Both of the officers involved were reportedly wearing body cameras, but both of them said their body cameras fell off. Marcelle has called for state police to take over the investigation, but according to WAFB, that won't happen unless Mayor Kip Holden and Police Chief Carl Dabadie officially request it, which they have yet to do.