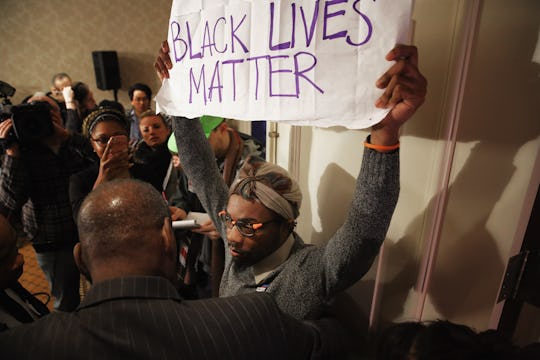 Chip Somodevilla/Getty Images News/Getty Images
Here's Everything You Need To Know About The Philando Castile Case
On Wednesday night, a 32-year-old black man named Philando Castile was fatally shot by a police officer after being allegedly pulled over for a broken taillight. His death is the most recent in the string of high-profile police brutality incidents. This development has sparked massive amounts of outrage, especially from those advocating for law enforcement reform. Information is still being released about Castile's death, and it's still under investigation, but, as it stands, here's everything you need to know about the Philando Castile case.
The shooting took place at a traffic stop near Larpenteur Avenue in Falcon Heights, Minnesota. It was around 9 p.m. when police pulled over the car where Castile was a passenger, according to NBC News. His girlfriend, Lavish Reynolds, was driving, and her daughter was in the back seat. According to Reynolds' as recorded in her video, they were pulled over for the broken tail light, but when Castile reached for his wallet, he was shot multiple times. Law enforcement officers later announced that Castile died in a hospital, but they did not use his name, according to CNN. He has since been confirmed by local news outlets to be Castile, an employee of J.J. Hill Montessori school in St. Paul, Minnesota, according to CBS Minnesota.
The Aftermath Was Streamed On Facebook Live
After Castile was shot, Reynolds had the presence of mind to record the scene and her interactions with police. When the Facebook Live video begins, the camera is trained on Castile's body, slumped in the passenger seat, covered in blood. The police officer who shot him is still visible standing just outside the car. His gun is still up, but his hands are shaking. He can be heard cursing. Reynolds continues to narrate until she herself is handcuffed in the back of a police car. Neither of the two officers involved have been identified, though, according to BuzzFeed, they have been put on paid leave. The St. Anthony Police Department has not responded to Romper's request for comment.
After the video had been posted, it was briefly taken down. Facebook sent a statement to BuzzFeed saying that it had been due to a technical issue and not any attempt at censorship. Facebook reportedly wrote, "We're very sorry that the video was temporarily inaccessible. It was down due to a technical glitch and restored as soon as we were able to investigate." It's currently being streamed on Heavy.com.
In the video, Reynold's own incredulity about the situation is obvious. At one point, she says, "Oh my god, please don't tell me he's dead. Please don't tell me my boyfriend just went like that." She tells the officer, "You shot four bullets into him, sir. He was just getting his license."
The footage is moving, intense, and provides an unprecedented glimpse into the systemic issues of the law enforcement system. Through it all, the camera keeps recording. Reynolds and her daughter are moved from their car to the back of the police car until the officers can get everything "all sorted out." When she begins crying, her young daughter says, "It's OK, Mommy. It's OK, I'm right here with you."
Castile Had A Concealed Carry Permit
In her video, Reynolds said Castile had a concealed carry permit and was carrying a firearm when he was shot. Reynolds said he was "trying to get out his ID" when "he let the officer know he had a firearm, and he was reaching for his wallet, and the officer just shot him. … He just shot his arm off."
The Case Is Being Investigated By The BCA
According to CNN, police chief Jon Mangseth held a press briefing at 2 a.m. this morning, during which he said that the case would be investigated by the BCA, or Bureau of Criminal Apprehension. The BCA is a Minnesota-wide organization that evaluates their law enforcement practices and officers. Mangseth did not speak long or go into details about the incident. He only said that "during the stop, shots were fired."
Castile Had A Very Short Criminal Record
During the Facebook Live video, Reynolds repeatedly says that Castile is not a gang member and that he doesn't have a criminal record. According to the Minnesota Department of Public Safety, Castile had a few marks on his record, but they were very minor. One was for not having insurance. Another was for driving after his license had been revoked. Other than driving-related violations, he had a clean record. His family has been speaking out to confirm that. His uncle spoke to KARE 11 News and said that Castile was an "upstanding young man." In a tweet, a parent at the school where Castile worked gushed about his kind nature and devotion to his job. Still, it's sad that people should still have to give reasons for why someone shouldn't have been shot while sitting in his car. Even if Castile had committed previous crimes, they would not justify his death.
Many questions still remain about this tragic incident, despite the amount of video footage taken at the time. A number of protesters have already taken up the call for answers and action in Minnesota. The demand for justice, perhaps once thought incontrovertible, is becoming one of the most controversial issues in the United States.