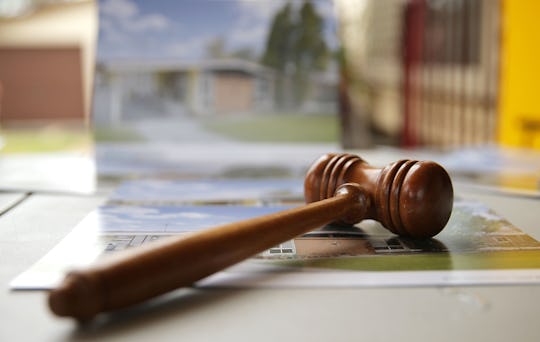 Mark Metcalfe/Getty Images News/Getty Images
Here's Everything You Should Know About The Stanford Rape Case
In one of the most talked-about sexual assault cases in recent months, a California judge handed down a controversial sentence this week in the case of a Stanford University woman who was raped by Brock Allen Turner, a former athlete at the school. The "slap on the wrist," as some analysts have called it, has been blasted online and off as another frustrating example of rape culture and how sexual assault survivors are often re-victimized by the courts. For anyone not familiar with this story, here is everything you should know about the Stanford rape case.
On Jan 18, 2015, two Stanford University grad students found Brock Allen Turner lying on top of an unconscious woman behind the dumpster outside of a campus fraternity party, The Guardian reported. The victim, identified only as 23-year-old Emily Doe (a fake name), was partially clothed and had a blood alcohol level three times the legal limit, according to that report. While the young woman, who was not a student, didn't remember anything about the incident, The Guardian reported that the two witnesses said they saw Turner "thrusting" on top of her while she lie motionless. Turner was arrested over the incident and faced charges that could have meant a maximum of 14 years in prison, according to that report.
The details of the horrific incident were recounted in a grueling jury trial that eventually led to Turner's March 2016 sexual assault conviction. But it's what happened during Turner's sentencing that has people outraged. Here is what we know about the Stanford University rape case.
Brock Allen Turner Was Convicted Of Raping An Unconscious Woman
Earlier this year, Turner was convicted of three felony counts of sexual assault against the 23-year-old woman identified only as Emily Doe: convicted of assault with intent to commit rape of an intoxicated woman, sexually penetrating an intoxicated person with a foreign object, and sexually penetrating an unconscious person with a foreign object. The charges could easily have meant a maximum of 14 years in prison, according to The Guardian. Instead, on June 2, Judge Persky sentenced Turner to six months in county jail and probation for the assault. With good behavior, Turner could be out of jail in as little as three months.
The Victim's 12-Page Statement On The Rape Is Both Excruciating & Essential To Read
The 23-year-old woman, identified only as Emily Doe, read a detailed account of her trauma in open court just ahead of the judge's decision. BuzzFeed published the Stanford woman's letter to her rapist in its entirety, and it is one of the most important accounts of the aftermath of sexual assault and the impact of rape culture that you will ever read.
In her letter, Doe talked about having to piece together the events through news accounts, being re-assaulted by the investigative process, and then, having her actions picked apart as the defendant's attorneys re-imagined her unconscious state as sexual consent:
I thought there's no way this is going to trial; there were witnesses, there was dirt in my body, he ran but was caught. He's going to settle, formally apologize, and we will both move on. Instead, I was told he hired a powerful attorney, expert witnesses, private investigators who were going to try and find details about my personal life to use against me, find loopholes in my story to invalidate me and my sister, in order to show that this sexual assault was in fact a misunderstanding.
Turner's Father Responded, Calling The Rape "20 Minutes Of Action" That Will Affect His Son's Life
Doe's statement wasn't the only one heard by Judge Persky during Turner's sentencing hearing. Turner's father, Dan Turner, also read a statement to the court — though his was a plea for leniency on behalf of his son, according to the New York Times. Despite Brock Turner admitting he had sex with Doe after drinking nine beers and whisky — and being caught in the act of having sex with Doe while she was unconscious — Dan Turner argued that his son should face no jail time, calling the assault "20 minutes of action" that weren't violent. The father went on to say in his statement that Turner had already paid for "the events" with the anxiety and fear caused by the trial, his inability to enjoy his favorite foods, and having to register as a sex offender:
I was always excited to get him a big ribeye steak to grill, or get his favorite snack for him. [...] Now he barely consumes any food and only eats to exist. These verdicts have broken and shattered him and our family in so many ways.
The defendant's father added that, rather than go to prison, Turner should be allowed to "educate others" on "the dangers of alcohol consumption and sexual promiscuity." Stanford University law professor and sociologist Michele Dauber tweeted the statement Dan Turner read in court.
The Judge's Statement Excused The Assault As A Lapse In Judgement By A Student With Potential
Dismissing the significance of the conviction handed down by a jury of eight men and four women as the result of "an imperfect process," Judge Persky seemed persuaded by positive statements on Turner's character submitted by his father and friends, according to The Guardian. Speaking of one letter, submitted by a former classmate of Turner's who asked the judge not to base his ruling on "the decision of a girl who doesn't remember anything but the amount she drank," Persky had this to say:
To me that just rings true. It sort of corroborates the evidence of his character up until the night of this incident, which has been positive. [...] The character letters that have been submitted do show a huge collateral consequence for Mr Turner.
Persky also said that the defendant, who was referred to as an "Olympic hopeful" several times during the trial and sentencing, according to the Times, wasn't to blame for the attack, as he was also intoxicated. The judge also added that the lack of significant" prior offenses in Turner's criminal history along with the effect of the intense media coverage surrounding the trial were enough to justify a the six-month sentence.
The Lenient Sentence Has Sparked Outrage, Including Calls For The Judge's Removal
The judge's statements and Turner's six-month sentence have sparked an outcry from people following the case, as well as those in the legal field. Speaking to NBC News, Stanford law professor Michele Dauber said she didn't understand the judge's reasoning in the case. "The judge had to bend over backwards to accommodate this young man," Dauber said. She added that she believed Persky, who NBC News reported also attended Stanford and was captain of the school's lacrosse team, was persuaded by his reported similarities to the defendant. "I think he was very persuaded by the background of the young man as an elite athlete."
In an interview with the Times, Dauber added that the judge had mishandled the case and sent a frightening message to women on college campuses across the country.
If you're going to declare that a high-achieving perpetrator is an unusual case, then you're saying to women on college campuses that they don't deserve the full protection of the law in California.
Dauber, who identified herself to NBC News as a family friend of the victim in the case, is part of a committee organizing a recall challenge for Persky. And by Tuesday morning, a Change.org petition calling for Judge Persky's removal from the bench had nearly 318,000 supporters.
And, the ordeal may still be far from over. The Mercury News reported that, despite the extremely light sentence, Turner's attorneys still plan to appeal the conviction. So, if Turner manages to get another sympathetic judge, he may never serve a day in jail at all. In a case that has already proven simply unbelievable, that might be the most chilling prospect.