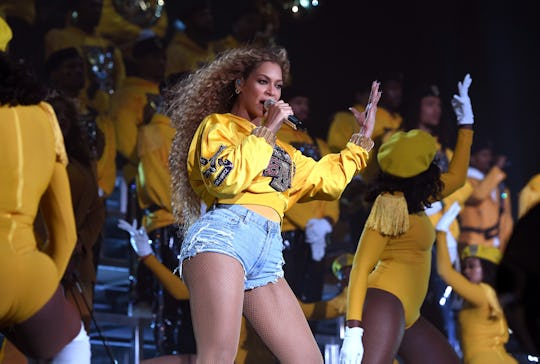 Larry Busacca/Getty Images Entertainment/Getty Images
Beyoncé Has High Hopes For Her Children To Lead Less 'Complicated' Lives
At this point, it seems fair to say that Beyoncé's career is less about making a splash, and more about complete and total world domination. But that applies to her personal life, too: her 2017 twin pregnancy announcement easily became one of the most liked Instagram posts ever, and though she doesn't often discuss her life as a mom, we're all definitely enthralled by any mention of Blue, Rumi, and Sir. In Vogue's coveted September issue, though, the star opened up about pregnancy, birth, and motherhood, and honestly, it was eye-opening. Here's how Beyoncé hopes to give her children less "complicated" lives than the one she had growing up, because her take on parenting is pretty profound.
It might not be particularly surprising to hear that Beyoncé is focused on giving her children a better life than she had herself — it's something most parents aim for for their kids, after all, even if they might not be doing it consciously. But even though Beyoncé's version of "a better life" can easily include things like growing up in palatial, multi-million-dollar mansions, taking luxurious vacations, and wearing designer clothes, her Vogue essay makes it clear that the superstar mama is aiming to provide her children with far more than just material possessions.
In the incredibly revealing article, Beyoncé admitted that she "[came] from a lineage of broken male-female relationships, abuse of power, and mistrust," and that it was something she had to learn to recognize and heal in her life. That, in itself, is a hard task, but the singer shared that, as a mother, it has also become incredibly important for her that she learns how to "break the generational curses in [her] family" so that her children will experience a different, much more healthy, reality.
Any parent who has similarly grown up in an environment of unstable relationships can likely understand Beyoncé's desire to offer her children something so much better — it's far too easy, after all, for these patterns to be repeated in each generation. But the mom-of-three says that she actually had two really unique and meaningful opportunities to learn exactly how to do it.
The first, she explained, came when she made a point to research her own ancestry. What she found was that she "[came] from a slave owner who fell in love with and married a slave," and though she said that was naturally something she "had to process," in time, she ultimately came to believe that it was the reason behind the second opportunity: her twin pregnancy.
Beyoncé told Vogue that she felt that the discovery about her heritage was "why God blessed [her] with [her] twins," and explained that being pregnant meant "male and female energy was able to coexist and grow in [her] blood for the first time." That experience, she said, gave her a new appreciation for her background and what she had experienced. And that wisdom has since become the foundation for her attempt to be a more enlightened mother.
Beyoncé doesn't actually specify in the interview what her "lineage of broken male-female relationships" actually looks like, but it doesn't seem particularly difficult to speculate. For one, both she and husband JAY-Z have been upfront — at least, musically — about the difficulties they've faced in their marriage (both Bey's 2016 visual album, Lemonade, as well as JAY-Z's 2017 release, 4:44, tackled the issues of infidelity and reconciliation), and Beyoncé has also had a difficult relationship with her father, Matthew Knowles.
In 2009, according to The Telegraph, Knowles fathered a child with actress Alexsandra Wright while still married to, Beyoncé's mother, Tina Lawson. That led the two to divorce after 29 years of marriage, but it wasn't the only issue the family faced around that time. In 2010, Beyoncé ordered an audit of her finances through law firm Reed Smith LLP, after concert promoter Live Nation alleged that Knowles — who at the time had been the singer's long-time manager — had been stealing money from her. Knowles denied the claims, according to Billboard, but the court ruled in Live Nation's favor, and Beyoncé announced in March 2011 that she had dropped her father as her manager, according to The Telegraph. (A rep for Knowles did not immediately respond to Romper's request for comment.)
As hard as that must have been to endure, it sounds as though it has taught Beyoncé some incredibly valuable lessons about who she is, what she stands for, and what she hopes for for her children. And hopefully, she and JAY-Z will be able to raise their own children with so much more love, security, and trust as a result.