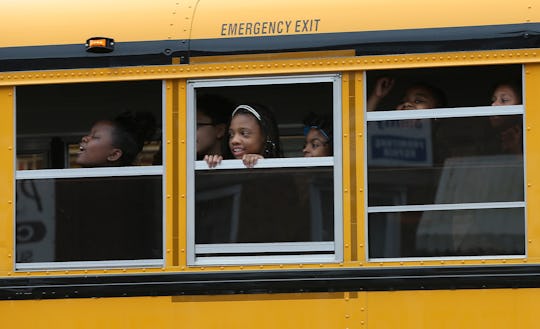 Win McNamee/Getty Images News/Getty Images
Here's How ICE Raids Are Affecting Kids Everywhere
Very quickly after taking office, President Donald Trump stayed true to his campaign promise to deport more undocumented immigrants. News of ICE, or Immigration and Customs Enforcement, raids across the country have caused panic and fear from undocumented immigrants and their families. And these fears are affecting children everywhere — especially at school. Here's how ICE raids are affecting kids across the country.
The Civil Rights Act of 1964 allows every child "equal access to public education — irrespective of race, color, sex, gender identity, religion, national origin, sexual orientation, disability, or immigration status."
School officials everywhere, from The Massachusetts Department of Education, to Chicago Public Schools, are committed to upholding that right in the face of ICE immigration raids, and have promised not to question a child's immigration status. But how can educators teach children who have an undocumented parent who is too afraid to take them to school?
Last month, more than 680 immigrants were arrested in a five-day operation, The Department of Homeland Security announced, according to CNN. Anxiety is high, at least in part because some of the people who have been arrested are not criminals and weren't being targeted, NPR reported. Some have been detained despite having DACA — Deferred Action for Childhood Arrivals — status, which protects undocumented immigrants from deportation if they came to the United States as minors.
Children are confused and scared, and teachers across the country are seeing the heartbreaking effects of the immigration enforcement order on a daily basis. "One of our kindergarten teachers had a little boy who brought a suitcase with him to class for two days," Colorado Education Association Vice President Amie Baca-Oehlert told the National Education Association's Education Votes. "When she asked him what it was for, he said 'I want to make sure I have my special things when they come to get me'.
One teacher in Austin had her students draw how they were feeling after news of the immigration raids:
Teachers have also observed undocumented parents acting differently, even changing their phone numbers, which prevents the schools from being able to contact them, Education Votes reported. Some educators have even described much emptier classrooms, a spokesperson for the American Federation of Teachers told Romper.
"What we're seeing is a lot of parents who used to pick up their children from school and now they're sending them on the bus," a teacher in Austin, Texas, who asked to remain anonymous, told The Huffington Post. "The parents are afraid to come to the school."
One parent, who was born in Mexico, told The Huffington Post that ICE parked a car just blocks from her daughter's elementary school. This is despite the fact that policy states that ICE isn't allowed to arrest or search for people at "sensitive places" such as churches, schools, or hospitals.
"The kids were very scared," the parent told The Huffington Post. "Why do they have to be in front of the school? A child shouldn't have to be living through this."
And although many schools are helping educate undocumented students and parents about their rights, it's important to remember that not every educator is advocating on behalf of immigrant students. Some teachers insulted immigrant students on social media after they were absent from school on February 16th, which was #ADayWithoutImmigrants. One teacher wrote "mostly failing students were missing;" another wrote there should be more days without immigrant students because "there were no discipline issues" that day.
With teachers like these, students who are undocumented have more reasons not to go to school than being afraid.