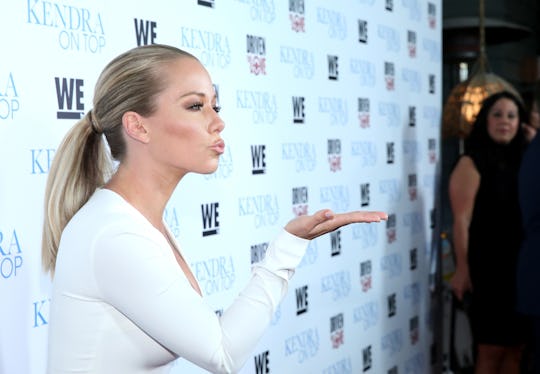 Jonathan Leibson/Getty Images Entertainment/Getty Images
Kendra Wilkinson Would Respect Any Of Her Daughter's Decisions
Sex work is a highly stigmatized profession in the United States and many other countries. Sex workers often face ridicule, discrimination, jail time, and violence for their choices. They're either treated as criminals or victims who need saving — or both. And if they have children, people who chose sex work have to face down arguments about the "example" they are setting. That's why it's necessary to hear how Kendra Wilkinson would feel about her daughter posing for Playboy. In short: She wouldn't mind.
The former Playboy model spoke with Entertainment Tonight on Thursday that she's not the type of person "to hold my kids back" or "put any limits to their lives." Wilkinson said she would support her daughter Alijah, now 4, if she wanted to pose for the cover of Playboy when she's older and of legal age. The 32-year-old Kendra On Top star continued,
If that's your way of wanting to express yourself and who you are, then go ahead and be exactly who you want to be. … Why are we putting rules on everyone? It doesn't even make sense. For who? What are the rules for? For society? What the hell? To impress other people? Where do we live?
To be transparent, Wilkinson did tell ET that she wouldn't necessarily like her daughter posing for Playboy one day. But that attitude may have far less to do with sex work and more to do with what would lead her there. Earlier this year, Wilkinson told HuffPost Live that she would "100 percent say OK" if Alijah followed in her Playboy footsteps — but only if her daughter was in a healthy mental and physical space, according to Life & Style. The former Girl Next Door star added that, as a stripper and Playboy bunny,
I was very mentally there, I knew what I was doing, even though I had a little bit of fun, that was a choice that I made and I owned it. And I did nothing wrong ... and it led me to my life today. Everybody has to go through little 'finding out who they are' stages.
People engaged in sex work, especially trans women and women of color, are often degraded, devalued, and villainized. As explored in the book Playing the Whore: The Work of Sex Work, anti-sex work attitudes strip sex workers of autonomy and agency, and put their lives at risk. And governments that criminalize the industry deny sex workers basic labor rights that could protect them on and off the job.
Three years ago, for example, sex workers in Canada came out strong against the country's new anti-prostitution law because it would create a barrier to resources they need, according to The Globe And Mail. Former sex worker Kerry Porth said in a news conference at the time,
They have told us over and over again that this bill is intended to protect sex workers. These new laws will push sex work further underground into the darkest corners of our city.
Wilkinson's message to ET is an important one. Since sex work is so poorly regarded, people often assume that sex workers or former sex workers with children would be ashamed of their past decisions. But Wilkinson, who is also mom to 7-year-old Hank IV with NFL pro husband Hank Baskett, has proven that morally-derived belief wrong.